Stargazers traveling to see the spectacular Northern Lights have been warned to take care when looking for the lights when driving.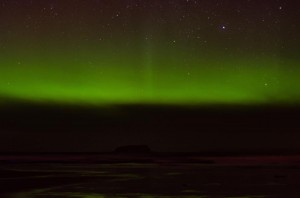 Thousands of people have already converged on the Inishowen Peninsula where spectacular displays of the Aurora lights have been on display in recent days.
A number of places including Horn Head, Urris and Fanad Head have been thronged with sight-seers form across the country.
However the AA have now warned drivers to be careful and concentrate on the roads around Donegal while searching the skies.
Kathleen Gill of Inishowen Tourism says the Northern Lights have brought a great early season boost to tourism season.
However she stressed she did not want them to come at a cost to human life.
"We are asking people to enjoy the lights by all means but we also want to be careful on the roads here.
"We are enjoying an influx of visitors but we want them to arrive here safely.
"Some people are arriving here at night and are naturally looking to the sky to see the lights and they can put themselves in danger.
"If the lights are visible then people will have plenty of time to see them throughout the night.
"Safety is our priority and we are very anxious to get that message out there," she said.
The appearance of the lights, which have not been here in such prominence since 2003, has also meant a spin-off for other entrepreneurs.
A number of chip and fast-food outlets have been touring the peninsula with the crowds and stopping off at the best vantage points for the Northern Lights.
Ends