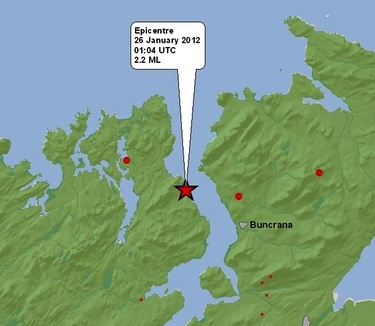 LATEST: EXPERTS have warned that County Donegal could be hit by more earthquakes in the coming weeks if Thursday's tremor follows recent patterns.
Three quakes in three weeks hit the same area of north Donegal in 2010.
David Galloway from the British Geological Survey admitted: "We simply don't know for certain what will happen. We might not see another earthquake like this for some time.
"However it is just as likely that there is a repeat of the cluster of a couple of years ago and we could one, two or more earthquakes in and around Lough Swilly where the Lennan Fault runs.
"The epicentre was around Portsalon, and that's only a few miles away from previous earthquakes in that area."
Hundreds of people were shaken out of their beds over a wide area from Letterkenny to Buncrana and in many areas in between shortly after 1am on Thursday by a 2.2 Richter Scale quake.
Schools in Buncrana and Stranorlar were able to pick up the readings on specialist equipment used in geology classes.
Previous article here: https://www.donegaldaily.com/2012/01/26/donegal-hit-by-earthquake-overnight/
The earthquake has sparked a thousand jokes and hundreds of funny posts on the internet.
The latest – and one of the funniest – is this picture below: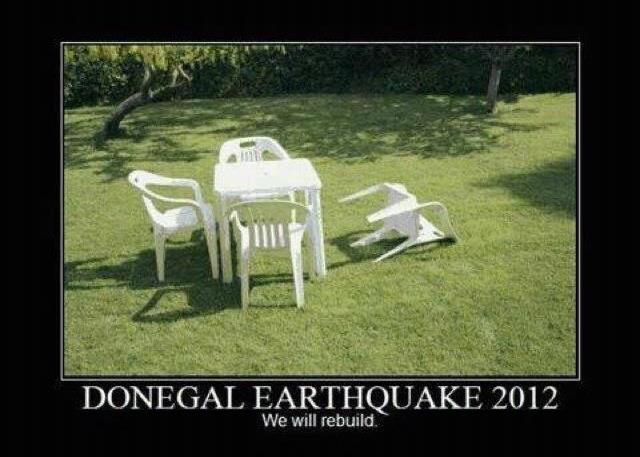 © 2011 donegaldaily.com, all Rights Reserved
The copying, republication or redistribution of donegaldaily.com Content, including by framing or similar means, is expressly prohibited by law.
Follow us on www.twitter.com/donegaldaily
Follow us on www.facebook.com/donegaldaily
Sell anything on www.donegaldailyclassifieds.com
Tags: