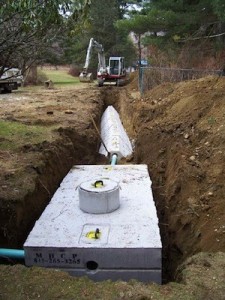 TWO Donegal TDs have called on the Government to help families pay for septic tank upgrades.
Pearse Doherty and Padraig MacLochlainn spoke out as the Minister for the Environment Phil Hogan announced a reduced inspection fee for septic tanks.
Mr Hogan said the fee will be reduced from €50 to €5 for the first three months when the charge is introduced in April in an incentive to get tank owners to register early.
But Donegal Sinn Féin TDs Pearse Doherty and Pádraig Mac Lochlainn are more concerned about the potential €10,000 costs some families may face after inspection.
They have called on the Government to make funds available to assist families in upgrading their septic tanks.
In a joint statement, they said: "The Government must come out with a clear indication that any upgrading of household septic tanks will be fully funded by the Department of Environment. Anything less is unacceptable.
"By failing to comply with EEC/EU directives dating back to 1975, consecutive governments have failed both the public and the environment. It is only with the threat of EU fines that this government responded with bully boy legislation which is heavy on punishment but light on supports. It is grossly unfair to expect rural households to foot the bill for years of government incompetence."
They said Sinn Féin fully supports protecting our water supply and the wider environment. But the government must announce, sooner rather than later, that proper funding will be made available to households, they said.
Their statement concluded: "This funding must fully cover any upgrading required to comply with new septic tank standards.
"The current situation is farcical. We have legislation that demands the registration of septic tanks and the upgrading of these septic tanks but no standards to assess them by and no financial assistance for households to carry out the necessary work.
"Sinn Féin will not be calling for householders to register their septic tanks until the standards are published by the government and until we are satisfied that this standards are fair and workable."
Tags: