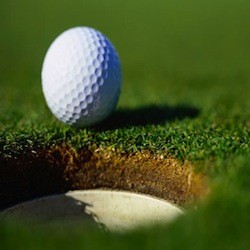 North Western Golf Alliance played at Rosapenna (Sandy Hills)       Golf Club par 71 s.s.s. 71
18th February 2012
1st Nett Odran McGettigan (24) Strabane G.C. 76
2ND Nett Ryan McGowan (6) Strabane G.C. 80
3RD Nett Maurice McGettigan (16) Strabane G.C. 82
4TH Nett Sean Quigg (3) City of Derry G.C. 83
5TH Nett Clive Davison (15) Letterkenny G.C. 84
6th Nett Eddie Mc Hugh (11) Strabane G.C. 86 B.O.T.
1st Gross Michael McGeady (Scr) McCambridge Duffy 82
2nd Gross Noel Callan (Scr) Faughan Valley G.C. 84 B.O.T.
3RD Gross Enda Kennedy (Scr) Rosapenna G.C. 84
4TH Gross Paul McGuigan (3)   Foyle G.C. 86
5TH Gross James Kelly (Scr) City of Derry G.C. 87
6TH Gross John Sweeney (6) Portsalon G.C. 98
Sean Quigg had a "2" and will receive 4 golf balls as a reward for his accuracy.
The Alliance's visit to Sandy Hills will live long in the memory of the 48 intrepid competitors who ventured out. The weather a fortnight ago in Portsalon was not conducive to the playing of golf and today was no different a strong at times gale force wind augmented with hail stones that seemed bent on going through the players led to some cataclysmic scoring.
The course was well set up off the very back markers and like most links courses during the off season showed the upgrading of the course with new bunkers and teeing areas being constructed. The wintry conditions allied with the undoubted difficulties of the course made scoring seem impossible at times.
There were just 14 cards returned by the 48 competitors.
In the Nett it was the winner of the golfer of the season Odran Mc Gettigan who triumphed by no less than 4 strokes .He has been a model of consistency all year. His prowess at the par 3's was the key to his good score
In the Gross section after 9 Michael McGeady and Enda Kennedy were locked on 40 that is 5 over Following them were Noel Callan on 43 and Ryan McGowan on 44.as they progressed through the course Enda started to pull away so that by the 17th he was cruising .However he ended up in the bunker in front of the 18th and proceeded to take a nine on this par 4 .This allowed Michael who pared it to take victory by 2.  Noel Callan who bogied the last two holes beat Enda into third place on the break of tie. Ryan's score despite bogies at the last three went into the nett prizes where he was runner up to Odran McGettigan.
In the Minor prizes in the Golfer of the season the following are on 26 points each, Clive Davison, Michael O'Donnell and John Callan .Also in with a chance should any of the top 3 slip up are Ryan McGowan on 19 and Eddie McHugh on 18.Inthe Gross the runner up spot is between Sean Quigg and Michael McGeady both are on 38.
The Golfer of Season winners are Odran McGettigan (Nett) and Enda Kennedy (Gross)
Next competition Dunfanaghy G.C. on 3rd March and Captains day on 24th March in Rosapenna G.C.
Ends
Tags: