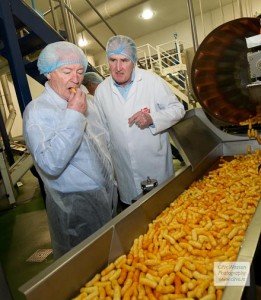 DESPITE claims from the Government junior Minister Dinny McGinley that reports of 26 jobs losses are 'misleading' it has been confirmed that 26 people are losing their jobs at Largo Foods in Gaoth Dobhair.
And donegaldaily.com can reveal details of conditions of a massive €579,000 grant to the crisp factory owners do not include any guarantee on new jobs.
Largo Foods has confirmed that 52 part-time positions are going at the factory on the Gaoth Dobhair industrial estate.
These will be replaced by 26 full-time positions, leaving 26 people out of work by the end of the year.
These voluntary redundancies have, according to the Minister, been agreed with staff.
However his claims today that 24 new full-time positions will be created as a result of this week's grant from Údarás na Gaeltachta isn't correct, sources told donegaldaily.com.
Most of the money – no exact figure has been officially released – is to be spent on research and development of new products.
But if that research fails to produce a market-winning new crisp, no new jobs will be created, a document shown to us clearly reveals.
We have been told that there is no condition in the grant handover that Largo Foods has to create new positions in Co Donegal.
It simply mentions the 'possibility' of creating 24 new jobs. Largo is not duty bound to do so.
One insider told us: "The crisp factory provides vital employment in the area and we are glad of it; but the company must be more clear in its communications.
"No-one is disputing that the same amount of work will continue but the bottom line is that 26 people will be on the dole at the end of this process.
"And it should be made clear no new jobs come with this grant money; just a desire to create new positions. But it isn't compulsory. And it's not in the contract."
© 2011 donegaldaily.com, all Rights Reserved
The copying, republication or redistribution of donegaldaily.com Content, including by framing or similar means, is expressly prohibited by law.
Follow us on www.twitter.com/donegaldaily
Follow us on www.facebook.com/donegaldaily
Tags: