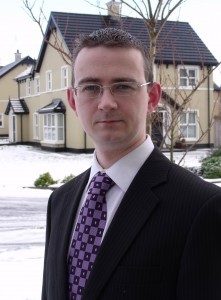 DD EXCLUSIVE: ANTI-AUSTERITY PROTESTOR RYAN Stewart met Minister Leo Varadkar in Letterkenny last night.
In this exclusive article for donegaldaily.com he writes about what happened.
BY RYAN STEWART: I want to make it clear that when we met Minister Varadkar, we were not impressed with the excuses given for inflicting and prolonging the austerity measures currently being meted out against rural Ireland.
This protest was organised in less than a day, and we are happy with the turnout, although more could have attended. We also hope that Minister Varadkar has received our message loud and clear, that we are not going to take this lying down.
This is the man who last year days before the General Election insisted that 'not one more cent' to quote him, would paid out to the banks, yet here we are, and billions have been poured down a black hole.
We also told Minister Varadkar that while he may have told us that not one cent would be paid out to banks and bondholders, as far as the government's Septic Tank charge, and Household charge is concerned, that not one cent will be paid by us – the difference is, we mean it.
We also, briefly, explained the complete disproportionality of the cuts and levies. It's very easy to paint pictures in the media, and when you have the government saying that they are retaining jobs that were at risk in DEIS schools for example, little is made of the fact that it's not a case that money was allocated.
They have in fact cut 3.5% of the capitation grant for all other schools to facilitate this, yet little is made of the real facts.
They are still weilding the knife against services, not only in education, but in health as well. Lifford is set to close, and cutbacks will reduce our health services further, and when they are gone, they are gone.
We explained how the measures being used to cut the deficit are causing the collapse of this country, and that there is nothing left to give. His only response was that it's Fianna Fail's fault, and that Europe is dictating the terms.
Nobody voted for Angela Merkel or Nicolas Sarkozy in the last election, yet they were privy to our last budget before anyone else.
As I'm writing this the event is continuing, but there are not 'hundreds' of supporters attending, in fact there were more in the front bar of the Station House hotel attending a table quiz.
The fact is, that this was a Fine Gael fundraiser, yet with the number of Gardai present, and admission at €10 per person with a slow turnout, how much taxpayers money was spent in policing this, in comparison with the amount of money that went into Fine Gael's coffers.
The noses are in the trough, and we, as taxpayers, are paying for it. Think about it. One night's hotel stay, mileage and maybe twenty Gardai, cost of the buffet and music – just a few of the costs. I would love to know who was paying for dinner tonight!
There were almost as many protesting as attended, so when you consider that we had a day to organise, yet this was in the pipeline for a while, you might see where the real support is – it's for the ordinary people, who work their backsides off day in day out. Fine Gael will be finished in this county as long as our politicians back their party over the people who elected them.
Tags: