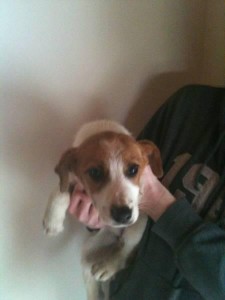 THERE is outrage across Co Donegal today after three adorable puppies were found abandoned in the middle of a forest.
Animal welfare experts say they are saddened after the find in woods at Drumkeen on Friday.
A spokesman for Donegal Pet Rescue told donegaldaily.com : "Yesterday we received a call from a member of the public to ask for our help. As he was walking to a wooded area in Drumkeen he came across three abandoned puppies around 9 weeks old.
"He remained there to ensure that they didn't belong to anyone but sadly no one came for them.
"We have now taken the puppies into our care and got them treated at the Vets this morning for worms and got their first Injection.
"The puppies are healthy apart from the worms and just must have been dumped off in the middle of the woods to fend for themselves.
"Thankfully this man has found them and now they are in our care. "If anyone has seen the pups before or knows of the owner can they please contact us as we would like to follow up and see how they managed to be found in the middle of a wooded area all alone."
© 2011 donegaldaily.com, all Rights Reserved
The copying, republication or redistribution of donegaldaily.com Content, including by framing or similar means, is expressly prohibited by law.
Tags: