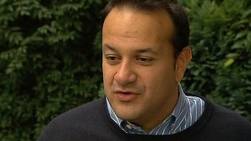 JUST 40 people turned up to protest at a visit to Co Donegal by Transport Minister Leo Varadkar last night – but that was more than turned up for the Fine Gael function, protestors claimed.
Organisers said they were "happy" with the turn-out saying more than 60 were there.
Varadkar – called the Irish Maggie Thatcher by opponents – met protestors to discuss their concerns before joining around 40 Fine Gael supporters at the Station House Hotel in Letterkenny.
Gardai were out in force – 20 were on duty – but were not needed as the protest passed off peacefully.
One of the protestors, Ryan Stewart, said he was glad to have had the chance to tell Deputy Varadkar about how the austerity measures were hitting Co Donegal.
He has written a separate piece for donegaldaily.com here https://www.donegaldaily.com/2012/02/25/exclusive-protestor-who-met-minister-varadkar-writes-for-donegaldaily-com/
Local Fine Gael TD Joe McHugh was among party supporters from Letterkenny and Milford who were at the event which continued until after midnight.
Tags: