Donegal's Road Safety Officer has said he has anecdotal evidence that there have been a number of near misses through motorists across Donegal driving and texting.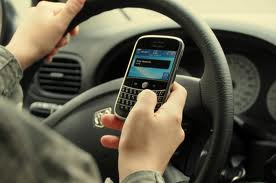 Eamon Browne told Donegaldaily.com that he is pleading with drivers not to use their phones while on the road.
"We have anecdotal evidence to suggest there have been a lot of near misses on Donegal's roads because of this behaviour.
"Using a phone while driving is now the second biggest offender while driving after speed.
"We have to get the message out that this behaviour is simply not acceptable," he said.
He said if people have to use their phones in cars then they should use Blue Tooth or simply pull in to the side of the road.
He was speaking as Gardai launched a campaign to target drivers using mobile phones after an unacceptably high level of detections.
Gardai say there is welcome evidence that there has been a major decrease in the number of crashes locally.
But they say the number of people being detected using mobile phones while driving is worrying.
Now a campaign is to be launched by the Donegal Road Safety Working Group to crack down on the issue.
The head of the Traffic Corps in Donegal, Garda Inspector Michael Harrison, said there will be no excuses for people caught chatting and driving.
"All you have to do is look around the county and you will see it. There is no way you can have proper control over a vehicle while speaking on the phone.
"We will be mounting operations over next couple of months.
"If you are caught you will receive penalty points and you will receive a fine," he said.
Tags: