The organising committee for the first Donegal Relay for Life is working hard in preparation for this huge event due to held on May 26th and 27th in LYIT.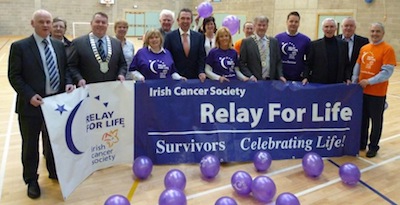 The event, in aid of Irish Cancer Society, will see the biggest Relay for Life event Ireland has seen to date.
Seventy teams are preparing to take part in the 24 hour relay and are busy fundraising – pancake bakes, coffee mornings, head shaves – lots of events happening throughout Donegal.
But we want to honour those who have survived cancer – we need you to contact us on relayforlifedonegal@gmail.com where you can give us your details.
"You will be the special guests at our event – we want to honour you and remember those who did not make it. We want to Celebrate, Remember and Fight Back – please contact us," said a spokesman.
Among the many fundraising events is tonight's Country Music Theme Night at Kelly's Mountain Top Bar and Restaurant.
Thje night, which is compered by Country Boy Tommy Rosney, kicks off at 9pm and features many top acts inlcuidng The Hoe Downers.
Tickets for the events, which cost just €5, are available at the dor and all proceeds go to the Irish Cancer Society.
If you have a fundraising night for the Relay for Life team, get in touch at info@donegaldaily.com and we'll let the whole of Donegal about it!
Tags: