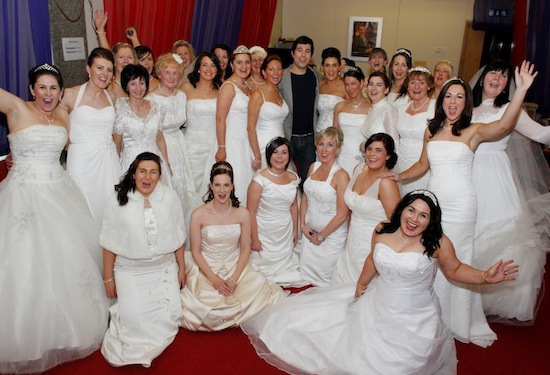 A group of blushing brides from across Co Donegal have had their date with telly hunk Craig Doyle.

The RTE star unveiled his new TV show Craig Doyle Live earlier this week.
And he had personally requested that all of the brides who donned their wedding dresses for charity at the recent charity ball in the Villa Rose Hotel in Ballybofey attend.
Being so devoted to their suffering husbands, the women have jumped at the chance of getting up close and personal with the easy-on-the-eye presenter.
The Villa Rose even put on a bus to collect the ladies and leave them to the RTE studios in Dublin and take them home again in their dresses!!
PICTURED:
 — with 
Geraldine Bonner
, 
Caroline Cairns
, 
Sinead Kenny
,
Caroline Lafferty
, 
Mariana Gallen
, 
Annette Nelson
, 
Leona Cronolly
, 
Sharon Mc Vey-Peoples
, 
Joan Boyle Rodgers
, 
Bellamarie Boyle Magee
, 
Desiree Doherty
, 
Donna Mc Crossan Russell
, 
charlene harold
, 
Edel Mc Ginty Doherty
, 
Cynthia Tourish Griffin
, 
eileen griffin
and 
Esther Heekin Gallen
.
Tags: