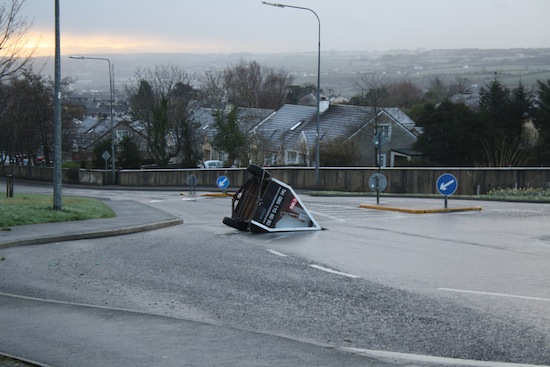 MOTORISTS  had people had a 'lucky' escape today after vandals threw an advertising sign across the road in front of them.
The incident happened on the Circular Road in Letterkenny shortly after 7am.
The trailer-style contraption, pictured, was in the centre of the road close to a roundabout.
Three youths were seen running away from the scene shortly afterwards, an eye-witness told donegaldaily.com.
Gardai are investigating the incident and moved the trailer back to the side of the road.
Meanwhile some parts of Co Donegal had a light dusting of snow and sleet overnight.
Temperatures have dropped this weekend and Gardai are warning motorists to be careful on the roads, particularly in rural areas.
LEAVE YOUR COMMENT BELOW
© 2012 donegaldaily.com, all Rights Reserved
The copying, republication or redistribution of donegaldaily.com Content, including by framing or similar means, is expressly prohibited by law.
Follow us on www.twitter.com/donegaldaily
Follow us on www.facebook.com/donegaldaily
Tags: