Cllr Frank McBrearty has accused Fianna Fáil Senator Brian O'Domhnaill of attempt to instill fear in Donegal communities by claiming dozens of teaching posts are to be slashed across Donegal.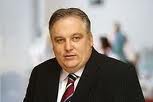 The Raphoe county councillor said the claims by Senator O'Domhnaill are complete untrue and outrageous.
"The claim by Senator O'Domhnaill that all 101 Donegal schools face staff losses and larger classes is completely untrue. The Labour Party were not able to shield the school sector entirely from budget cutbacks, but the standard pupil-teacher ratio in schools was protected, ensuring that most Donegal schools will have neither staff losses nor larger classes.
"Senator O'Domhnaill also claims that nine primary schools in Donegal will lose a teacher this September, amounting to at least 30 teachers.
"Again, he knows that this is a complete exaggeration, with the vast majority of those schools set to lose one teacher each – while this will obviously be difficult for the schools involved, their challenge is not made any easier by this type of scare-mongering.
"Cllr McBrearty said the Fianna Fail Senator had a 'nerve' to highlight the difficulties faced by St Eunan's in Raphoe.
"He should be able to remember that it was his Fianna Fáil that removed two teachers from this school in the December 2010 budget, and it is that cut which is ultimately leading to their loss of an administrative principal.
"It is true that they have lost one concessionary post as a result of the last budget, but I will be continuing to lobby Minister Quinn to try and have this post retained," he said.
And Cllr McBrearty added "Let's not forget what he said about the IMF during the BY ELECTION and what happened 24 hours later when we lost our SOVEREIGNTY.
"Senator O'Domhnaill should remember that the challenges faced by Donegal schools can all be traced back to the tragic mismanagement of our country by Fianna Fáil"
Tags: