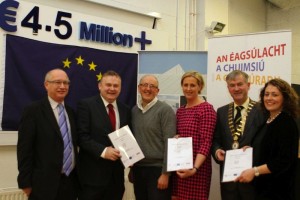 More than €4.5 million will be invested in projects across Donegal over the next three years.
The money, which will be allocated to a number of projects, is part of the Donegal Peace III Action Plan 2011-2013.
The announcement was made by Cllr Dessie Larkin, Chair of Donegal County Development Board Peace and Reconciliation Board.
Mayor Noel Mc Bride provided a welcome address at the event at the Regional Cultural Centre in Letterkenny.
"We in Donegal are keen that the high standard of work towards Peace and Reconciliation continues to be built upon in the county and that we are moving towards a shared future where diversity is embraced and celebrated and interculturalism is supported……I wish to acknowledge the funders of the Donegal PEACE III Action Plan, the European Union's European Regional Development Fund, managed by the Special EU Programmes Body. Their considerable monetary support, in excess of €4.5 million means that the delivery of the plan continues to make a real difference to individuals and groups in Donegal."
Dr Chis Sparks, a social and political theorist from Sligo IT delivered an entertaining and informative keynote address exploring diversity in Ireland today. His talk included a discussion around interculturalism and what this means.
Anne Marie Conlon, Donegal CDB Peace and Reconciliation Partnership detailed the Partnership's plan, including their shared vision of working to "Donegal a county where racism and sectarianism no longer exist and where all feel equally valued and confident that they belong."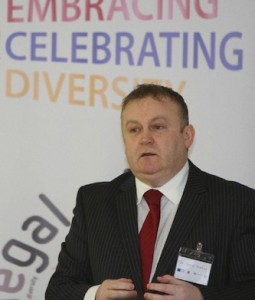 She outlined the strategic aims/priorities of the plan and spoke about the groups who are delivering the 24 strategic aims within the plan. Anne Marie paid tribute to the members of the partnership and took the opportunity to wish all of those who are involved in delivery of the plan well with their projects.
Sarah Thompson, Donegal County Council then introduced Donegal CDB Peace and Reconciliation Partnership's web presence on the Donegal CDB website – www.donegalcdb.ie .
She introduced the PEACE III pages and stated "I would encourage all those involved in the delivery of the Donegal PEACE III Action Plan 2011 – 2013 to utilise the website to highlight their projects through the submission of films, photographs, audio, articles of events and news and calendar dates. Anyone wishing to follow the work of the Partnership should log on regularly to the website as news about projects will constantly be added. The site also links to the Council's twitter and facebook pages."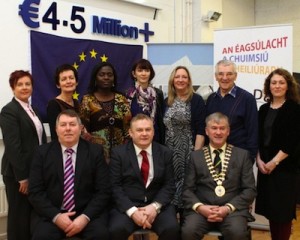 Sarah acknowledged the input from her colleauges at Donegal County Council, Paul Earley, Cara Patton and Brian McAleer in the development of this web presence which will hopefully be a useful resource to all interested in finding out about peace and reconciliation work in the county.
Mr Howard Keery, Director of Joint Technical Secretariat at SEUPB spoke on behalf of the funders.
Tags: