Thousands of residents across Inishowen couldn't object to a planning application for a windfarm – because they didn't know about the application.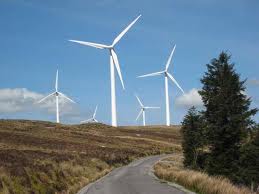 The planning application for the wind turbines was not advertised locally and went through the five week consultation period almost completely unnoticed.
The application was advertised in the Irish Times but not in any local news oultlet.
Now Sinn Féin County Councillor Jack Murray says Donegal County Council must review the approved list of media outlets that notifications of planning applications for wind turbines and other large structures can be placed.
Cllr Murray said "I asked my colleague Pádraig Mac Lochlainn to submit a Parliamentary Question to the Minister for Environment in relation to the suitable newspapers in which a planning notification for large structures can be placed.
"I did so as a recent planning application for two wind turbines in Inishowen was placed in the 'Irish Times' and was not noticed by anyone who lived in the vicinity of the proposed wind farm.
"By the time the local community had become aware of the application, they had missed the five week consultation period.
"Legislation states that notification must be placed on a road near the proposed site and in one newspaper from an approved list of newspapers – The Irish Times is one of Donegal's list of approved papers.
"This allows an application for a large structure to slip in under the radar as very few people will search for local planning applications in a national newspaper.
"I intend to submit a motion to the next county council meeting calling for the list of newspapers to be reviewed so that notification must be placed in at least one approved local paper," he said.
He says he will raise the matter at the next Inishowen Electoral Area meeting.
He will ask that planning applications for any new development which is larger than an individual dwelling be brought before local councillors so that they can inform the local community.
"I am hopeful that, if these new measures are put in place, no application for a large structure can go unnoticed by local residents."
Tags: