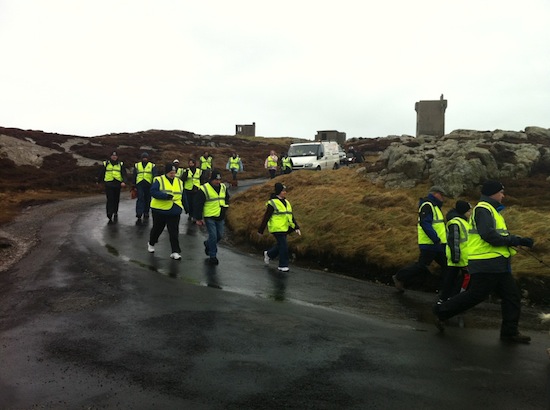 It's going to take three long weeks but this was the scene as hardy souls began their walk from Malin Head to Dublin today.
As our picture from Malin Head shows the members of the Donegal Action Against Austerity set out this morning to reach Dail Eireann by March 31st.
The walkers, which included unemployed builder Joe Murphy, are inviting people to walk a little or a lot of the way with them.
Today's start saw the walkers join a rally in Carndonagh before they continue onwards.
Joe said the group are determined to continue to try and make a difference.
"We don't know how many will join us on the walk, but we have been receiving messages of support from around the country. Even if people join us for a mile or two when we're passing through their town, we would be delighted. "
"We understand that other groups from around the country will be protesting at the Ard Fheis on the 31st, so we are asking as many as possible to join us on the last leg of the walk. We were down in Dublin protesting last week, and it will be good to be back there again. We cannot let the government forget about us again."
Businessman John McLaughlin understands that people might question the motives of the group, if not their sanity, and explains, "We are doing this for ourselves, our families, our friends and neighbours. We've sat back for too long, and we're all guilty of it some way, but as far as we're concerned, the time for sitting back is over. Austerity is affecting everyone from children to the elderly, but it only discriminates against the poor and vulnerable."
"But if people do stand up and be counted, they can change things. I have huge respect for the pensioners who rose up against the last government when their medical cards were threatened, and we might well see that again very soon. It goes to show what can be achieved if people put in even a little effort."