The man who bought the Sandhouse Hotel in Rossnowlagh and helped save 55 jobs have said the last thing he was treated like was a hero.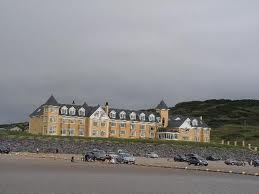 Paul Diver appeared on RTE's Saturday Night Show and retold the story of how he bought the hotel he has managed for the past 20 years for €650,000 at auction.
However Paul said his exploits didn't impress locals – until he got the drinks in!
"I returned home and my wife and children were there with a bottle of champagne which was lovely.
"And when I went down to the local pub, there was a huge cheers when I went into the bar. It wasn't because they thought I was a hero but they knew I'd have to get my round of drinks in," he laughed.
Paul said he is looking forward to running the hotel that he now owns.
He also revealed how he also nearly accidentally bought an apartment in Dublin at auction when he was simply waving hello to a friend at the auction in Dublin's Shelbourne Hotel.
Tags: