Garda killer Martin McDermott was fined in court this morning after he shouted abuse at a judge in Derry.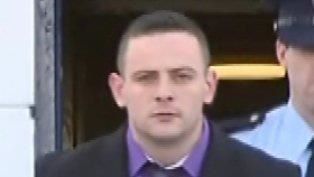 Raphoe man McDermott, who escaped from jail on Thursday, was found in Derry yesterday.
He appeared in court this morning charged with criminial damage and assaulting police officers during his arrest at Altcar Park in the Galliagh area of Derry.
However McDermott, who was serving a seven year sentence for the manslaughter of Garda Gary McLoughlin in 2009, became abusive in court.
He called Judge John Meehan a "f******* w*****r" after the judge had refised him bail.
McDermott, 26, was quickly removed from court but later returned and apologised to Judge Meehan.
He was fined a further £150 for misbehavior in court and was ordered to appear again by videolink on Thursday.
There was uproar this week when McDermott was able to simply walk out of the low security Loughlin House in Blacklion, Cavan.
Despite having a litany of more than 90 offences, McDermott was interred at the low security open prison after being found guilty of the manslaughter of Garda McLoughlin form Leitrim.
The tragic Garda was killed after the car in which McDermott was during ploughed into a Garda patrol car at Burt in 2009.
McDermot, who was found to be drunk, was being pursued y detectives after being observed acting suspiciously.
Tags: