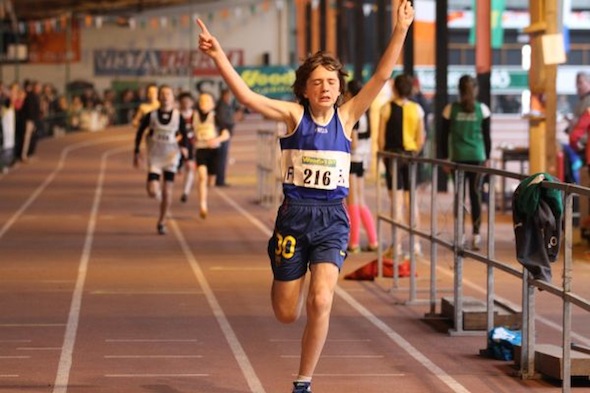 BY PATSY McGONAGLE: It was a case of records, excellent returns by a young Finn Valley squad on weekend 1 of national indoors at Nenagh.
Top of the list two outstanding 13 year old lads James Kelly, who real really nailed his title with a new impressive age group shot performance at 14-51 some 2m better than the old mark.
And when you consder he was getting out beyond 15m in training it is a remarkable mark for the St Johnston schoolboy whose brother John has been consistently winning and improving in recent years.
Aaron Mc Glynn, pictured top, from Glenfin is consistent and has won his respective nationals in recent years but the manner in which he simply changed gears to head for home and gold in the 600m was noteworthy.
He had 3 secs to spare and this victory doesn't come without dedicated training and attention to detail.
Silver for Shaun Woods in the 400m in a new indoor pb 51.75 behind a good Waterford lad Kiely.
Aine Kerr who began her athletics with St Bridgets NS Convoy had a thrilling performance in long jump for silver and Jack Gillespie a relative newcomer from Gleneely NS got up for a deserved bronze 600m in his age bracket.
Sunday saw Kieran Brady over 1.50 Tooban NS in bronze high but that was the winning height also of the winner. So near, yet an improvement for a personal best.
Top 6 indeeed top 4 positions for Janine Boyle in long and 60m she will turn this round in the months ahead.
Also 4th for Jack McGeehin in high and younger brother Alex top 6 in his high at 1.25. Naoimh Mc Granaghan had a pb and Jade Leeper also a pb with a 5th in shot.
Parents and coaches deserve a huge shout for ensuring all children turned out and we now look forward to weekend 2 again back in Nenagh this weekend and thus ends indoor athletics for 2012.
Congrats to Brendan Boyce, Milford, a member of LAC who posted yet another A olympic Q time in 50k in Slovakia.
Also an Ulster/ Donegal  record at 3.57.53. Superb.
Ulster and North West Athletes wrap by Eamon Harvey
Saturday, March 24th, 2012
Fast times and records were the order of the day at the Woodie's DIY Juvenile indoor track and field championships at Nenagh Stadium today.
Cormac Lynch (Marian AC) clocked the fastest winning time of the day in the 60m finals with a time of 7.07 in the U19 age group, chased all the way to the line by Keith Pike (Clonliffe Harriers) in 7.16 and Mark McGarvey (City of Derry AC) in third in a time of 7.21.
Joseph Ojemumi (Tallaght AC) won the U16 final in a new record time of 7.09, with Darren Prout (Carrick on Suir AC) second in 7.37 and Eoin Doherty (Donore Harriers) third in 7.38.Another fast time came in the U18 final with Eoin O'Carroll (Tralee Harriers) winning in 7.12 from Ryan McParland (City of Derry) in 7.21 and Keith Doherty (Tallaght AC) in 7.25.
Zak Irwin (Sligo AC) won the U17 title in a time of 7.17 ahead of Cian Greene (Youghal AC) in 7.27 and Jack McCloskey (City of Derry AC) in 7.32.
In the girls sprints Cliodhna Manning (Kilkenny City Harriers) had the fastest time of the day with 7.71, with Marie Heelan (Emerald aC) just behind in 7.77 and Sarah McCarthy (Fingallians AC) third in 7.92.
Grainne Moynihan (West Muskerry AC) won the U19 title comfortably in a time of 7.77 from Megan Keogh (Fingallians AC) in 8.00 and Anna Barr (City of Derry AC) third in 8.11.
The U16 title went to Laura Ann Costello (Galway City Harriers) in 7.86 ahead of Grace Lawler (St. L. O'Toole AC) in 7.93 and Annie Stafford (Menapians AC) in 7.97.
The first three in the U17 race were all under 8 seconds with Ciara Armstrong (City of Derry AC) winning in 7.89, with Kelly McGrory (Killybegs AC) second in 7.90 and Sarah Kate Lacey (Kilkenny City Harriers) third in 7.99.
In the field events Michaela Walsh (Swinford AC) won the U15 shot with a throw of 12.47m to better Aoife Hickey's 2005 record of 12.18m.
A second shot record went to Theresa Kelly (Brow Rangers AC) who won the U12 shot with 9.13m to better the 8.62m of Vickie Cusack from 2011.
In the long jump Daniel Ryan (Moycarky Coolcroo AC) won the U14 event with a jump of 5.64m to better Ciaran Joyce's 2008 mark of 4.84m.
The girls U13 high jump also produced a record when Vickie Cusack (Liscarroll AC) cleared 1.50m to add 3cm to Emily Rodgers 2006 record.
Sophie Meredith (St. Mary's Clare) added 3cm to Bronwyn Keogh's 2007 best when she won the U12 title with a jump of 4.47m.
Mary McLoone's 1999 record of 11.38m went west when Saragh Buggy (St. Abban's AC) jumped 11.71m to win the U19 triple jump.
Ben Kiely (Ferrybank AC) looked very comfortable in winning the U19 400m in a time of 51.17 from Shaun Woods (Finn Valley AC) in 51.75 and Eanna Madden (Carrick on Shannon AC) in 52.01.
Kieron Elliott (North Sligo AC) recorded almost the same time when winning the U18 400m in 51.18 from Evan McGuire (Galway City Harriers) in 51.40.
Sean Tobin (Clonmel AC) took the lead from the gun and was never headed as he raced to an impressive victory in the U19 1,500m. His time of 3:56.52 wiped out Gearoid O'Connor's 4:02.3 record from 1996
Sunday, March 25th, 2012
Day 2 of the Woodie's DIY Juvenile indoor championships featured some more exciting competition, with hurdles races dominating the track action.
Closest finish of the day was in the girls U17 60m hurdles won by Kelly McGrory (Tir Chonaill AC) in a time of 9.14, with Shannon Dawkins (Horeswood AC) just behind in 9.16.
Fastest of the day in the girls hurdles came from Kate McGowan (Tir Chonaill AC) in the U16 event with a time of 8.90, while Clare Murphy (St. L. O'Toole AC) was the only other athlete to dip under 9 seconds when she won the U19 title in a time of 8.92.
The U16 boys also produced a close finish with Darren Prout (Carrick on Suir AC) winning in a time of 8.55, ahead of Michael Quilligan (Nenagh Olympic AC) in 8.60 and Paul Sexton (Annalee AC) in 8.65.
Fastest time of the day in the boys hurdles went to Andrew Creamer (Annalee AC) with 8.04 in the boys U18 event, while Mark McGarvey (City of Derry AC) won the U19 title in a time of 8.45.
James Kelly (Finn Valley AC) demolished the U13 shot record with a throw of 14.51m to better the 12.39m mark of Thomas McGowan in 1011.
Gareth Turnbull's 1996 record of 3:54.0 went by the boards when Shane Fitzsimons (Mullingar Harriers) led from gun to tape to win the U18 1,500m in a time of 3:53.37.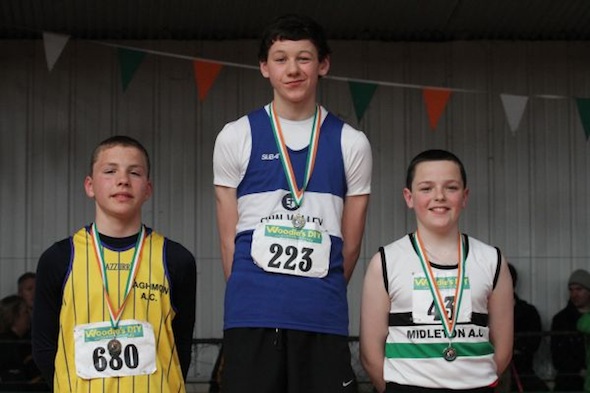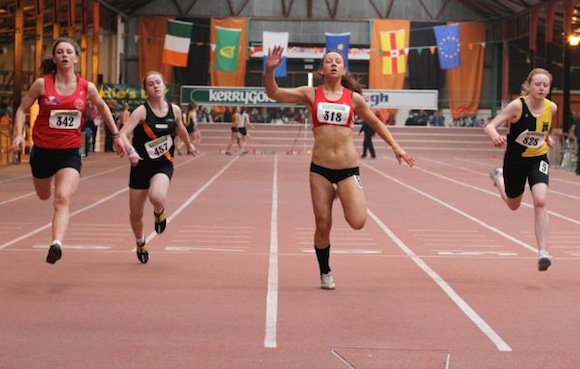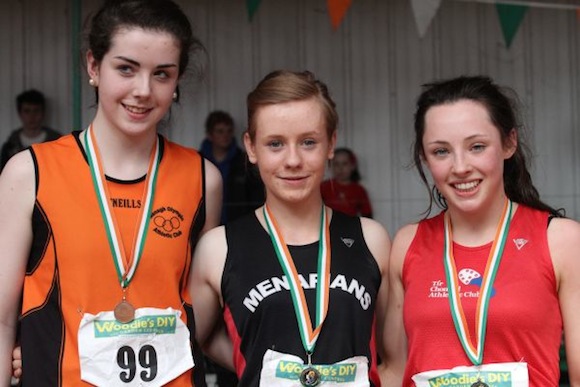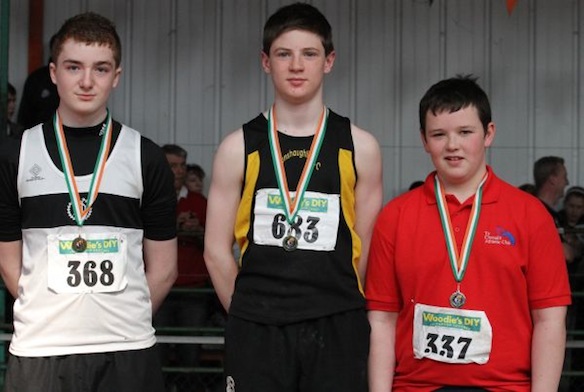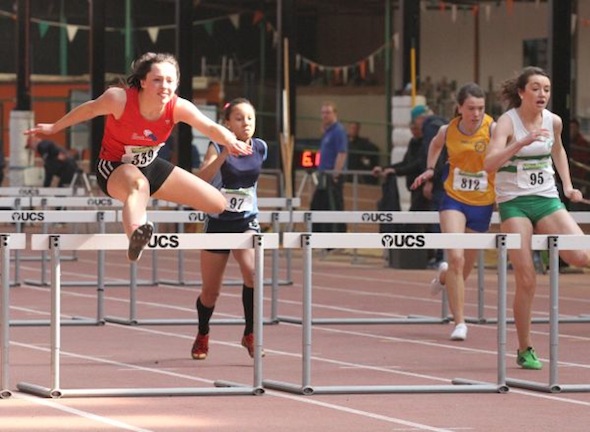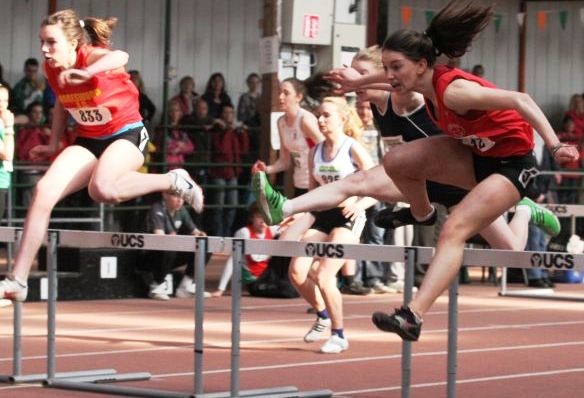 Tags: