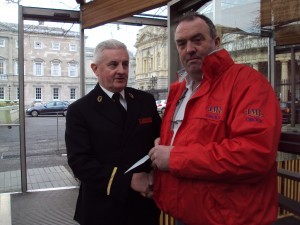 CAMPAIGNERS against austerity from Co Donegal took their message to the airwaves again tonight – appearing on RTE's Frontline show with Pat Kenny
Haulage contactor John McLaughlin, who was among the walkers from Malin Head to Dublin last month, told the programme that Donegal had been forgotten about.
Mr McLaughlin, from Convoy, told Pat Kenny that his business was being destroyed by high taxes and high taxes on fuel.
"They keep forgetting about Donegal," said Mr McLaughlin, who said he would not pay the household charge.
He was joined by Ryan Stewart from the anti-VRT campaign.
During the debate Pat Kenny turned to a Sinn Fein councillor in Louth, asking him to defend the fact that people in the North pay an average £700 a year in rates.
But he was told that people in the six counties don't have to pay for bin collection, school books, VRT or school transport.
Another member of the audience criticised the 29 Donegal county councillors, saying the county was over-represented. He also claimed the councillors "haven't delivered" for the people of Co Donegal in terms of road safety and river pollution.
The TV appearance follows another on Friday when Joe Murphy and four other Co Donegal anti-austerity protestors appeared on the Late Late Show.
Tags: