Donegal TD Joe McHugh has says there should be a full investigation into the circumstances surrounding the deaths of six patients at Nazareth House Nursing Home in Fahan.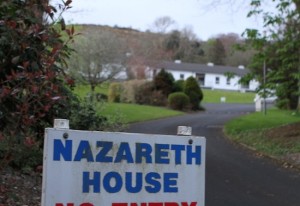 The Fine Gael politician spoke as it was revealed that the patients all died from the AH3 flu.
Deputy McHugh held a private meeting with Minister For Health James Reilly to discuss the fears of relatives with loved ones still left in the Fahan nursing home.
The Donegal politician said thankfully the origin of the deaths could now be traced.
However, he said still many questions which needed answered.
Among these was the timeframe in reporting the deaths to the HSE.
"Thankfully the findings have indicated that this was a strain of influenza. This will come a s a major relief to the relatives of those with loved ones still in Nazareth House.
"However I think they are owed an explanation as to why their loved ones died and I would welcome a report into these deaths.
"I think it is the least that can be done. There are plenty of questions still and they need to be answered," he said.
One person still remains in a serious condition in hospital as a result of the outbreak of the AH3 influenza.
Quarantine restrictions are now gradually being relaxed and some viisters are now being allowed back into certain parts of the nursing home.
All but one of the funerals of those who died at Nazareth House have now taken place.
Sister Eugene Fullerton, who worked at Nazareth House, was waked at the nursing home yesterday and will be buried tomorrow in Cockhill.
The funeral took place today of another victim, Margaret McGuire, who was buried in her native Culdaff.
Other victims include Michael McVeigh from Buncrana.
On the streets of Buncrana, the nearest town to Fahan, people were speechless about the events of the past 24 hours.
Up until now Nazareth House at enjoyed perhaps the best reputation of all nursing homes on the Inishowen Peninsula and perhaps in all of Co Donegal.
Locals revealed how the home even had a waiting list for people who wished to be transferred there from other nursing homes because of its reputation.
Local county councillor John Ryan confirmed his father Michael is currently a patient at Nazareth House and said he had no concerns about his father's welfare.
Another man, whose mother had been a patient at Fahan for four years but died last year, said he would not hear a bad word said about Nazareth House.
"I could never utter one bad word about the staff of Nazareth House. They went out of their way to look after my mother in her finals weeks and days.
"I am shocked by what has happened but I would be very surprised if this was in any way anything to do with oversights on behalf of staff or management," he said.