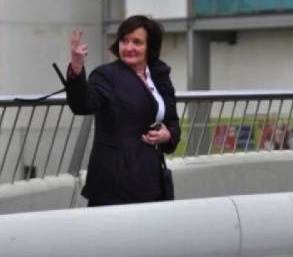 A WOMAN gave a two-fingered salute to anti-austerity protestors from Co Donegal at the weekend is NOT a member of Fine Gael, the party insisted today.
Buncrana woman Caroline McGonagle, who was among protestors at the Ard Fheis in Dublin, told donegaldaily.com yesterday that she had heard about someone giving the protestors the fingers on Saturday at the Ard Fheis.
However Fine Gael said today that they had "no idea who the woman in the picture is" and said they weren't sure "that this picture was even taken last Saturday."
Meanwhile Minister of State Roisin Shortall admitted on RTE the new household tax "was far from ideal as a system and far from ideal how it was handled".
Deputy Shortall dismissed suggestions it had been a "complete disaster" saying it had proved "problematic".
It is estimated that around half of all eligible households have not paid the charge.
As of this afternoon a total of 829,312 people had registered to pay the charge, including waiver applicants. That is an increase of 25,000 on Saturday's figure.
However, no campaigners continue to dispute a figure of 1.6m households being eligible, claiming it is closer to 1.8m.
That would mean one million households haven't paid.
Tags: