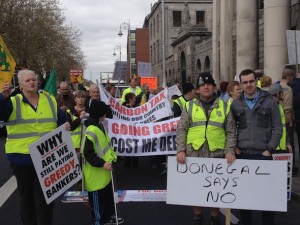 The Can't Pay, Won't Pay campaign has hailed the boycott of the Household Charge as a "resounding success."
The organisation said that with Donegal County Council "confirming a massive 75% non-payment rate" it shows the people "will no longer sit back and allow the country to be held to ransom by the demands of the IMF/EU."
Francis McCafferty of the campaign steering committee said today: "It is clear that a huge number of people have refused to pay the Household Tax. Despite threats of surcharges and huge fines, whole swathes of the ordinary people of the country have been prepared to participate in the most widespread display of civil disobedience in the history of the state.
"Those who have not paid are to be congratulated for making a courageous stand in the face of a huge campaign of propaganda and intimidation in the last week in particular. Many who paid in the last week did so only through fear."
He also claimed that the Government had "resorted to manipulating the figures" showing that 850,000 had now paid.
Said Mr McCafferty: "They now claim that only 1.57 million households had to pay the tax based on the 2011 Census, but this showed that there were two million residential housing units in the country.
"Of this 129,000 were social housing, 23,500 were in the process of being bought out from local authorities and 15,000 were held by voluntary and co-operative groups. This means that less than 200,000 properties were exempt from the charge, leaving a total of 1.8 million properties liable to register. On this basis nearly 1 million did not register for the Household Charge.
"It is now simply not feasible for the government to pursue so many non-payers. They should withdraw this hated, unfair and unworkable tax."
She said that Minister Hogan's response has been to throw the problem into the lap of the local authorities, with talk of 'rewarding' councils which aggressively pursue non-payers, while penalising others with cutbacks.
"As we have argued all along it is in Hogan's gift to give or take money from the local government fund. This nails the lie that non-payment of Hogan's home tax will lead to cutbacks," said the campaigner.
"There are calls from some government TDs for the Revenue service to take over the charge and the property tax next year. If this is done it will be further proof that we are resisting stealth taxes and not local authority 'service charges'.
"The Can't Pay, Won't Pay campaign continues. We will be stepping up our membership drive in the coming weeks and we encourage anyone who has not paid the charge to join as we are stronger together.
"In the course of our campaign we have distributed more than 100,000 newsletters and leaflets, organised more than 40 public meetings with thousands in attendance and led the recent march of well over 2,000 people in Letterkenny. The strength of the campaign will ensure that if the authorities attempt to take any action we will be more than a match for them."
Meanwhile Socialist TD Joe Higgins addressed a crowd of anti-austerity protestors in Letterkenny last night.
Tags: