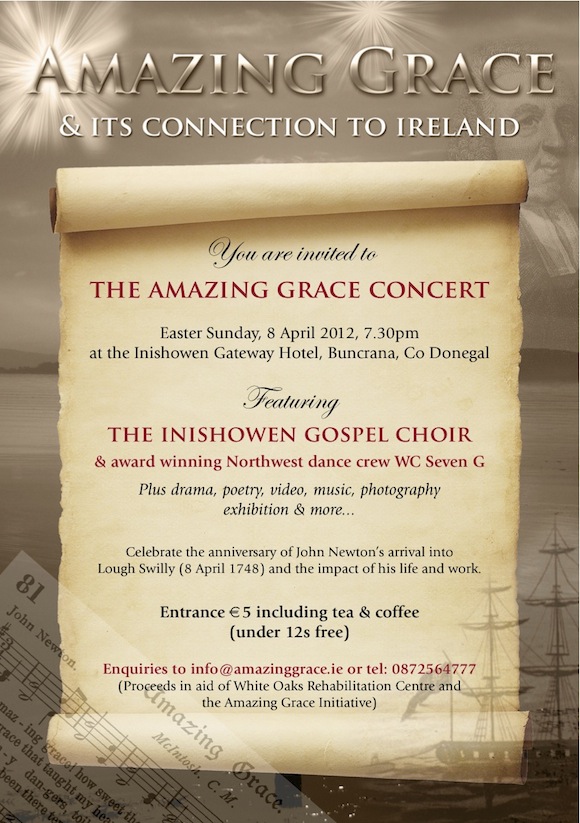 A feast of music and dance is on the menu for Easter Sunday to mark the anniversary of John Newton's historic arrival in Donegal.
It was on April 8, 1748 that the crippled cargo ship The Greyhound found refuge in Lough Swilly.  On board was a 'wretch'  – a foul-mouthed slave trader called John Newton.  His dramatic escape from death was the turning point of his life.  He went on to pen what is arguably the world's best loved hymn and to mentor William Wilberforce in his epic battle to abolish the slave trade.
Inishowen Gospel Choir will headline the "Amazing Grace Concert" at the Inishowen Gateway Hotel with award winning hip hop dance crew WC Seven G adding some contemporary flare and excitement.
Songs from well-loved musicals, traditional music, a photography exhibition and a re-telling of John Newton's story will contribute to a varied programme that offers something for all the family.
Proceeds from the event will support of the work of the White Oaks Rehabilitation Centre where clients have embraced "Amazing Grace" as their anthem.  Fr Neal Carlin explained how addiction to alcohol, drugs or gambling can be a form of modern-day slavery.
TD Padraig Mac Lochlainn hopes to be among the guests for the concert.  Speaking of the significance of the John Newton story to Inishowen, he said, "We remember John Newton for the hymn 'Amazing Grace' which is certainly a wonderful gift to humanity but more importantly, I believe was his mentoring of William Wilberforce.  It is hard to find a more inspirational story.
"I love the idea that my beloved Lough Swilly gave birth to one of the greatest stories in the history of mankind – the struggle to abolish the Trans-Atlantic Slave Trade."
"The Amazing Grace Concert" – Easter Sunday 8 April, 7.30pm at The Inishowen Gateway Hotel.  Tickets €5 (under 12s free) – tea and coffee on arrival
For more information about the connection between Lough Swilly and Amazing Grace, please visit www.amazinggrace.ie or the Amazing Grace Country facebook page.
Tickets for the Amazing Grace concert are on sale at the Buncrana Tourist Office or from info@amazinggrace.ie
Tags: