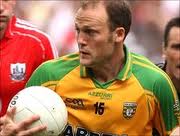 DONEGAL 0-13, ARMAGH 0-10
DONEGAL staged a fantastic comeback in Ballybofey today to secure Division One football next season.
Despite being pinned back by Armagh for much of the game, Jim McGuinness's team showed true grit to hit a hatful of second-half points.
Armagh had led by two points at half-time with Michael Stevenson the star for the visitors scoring give points as the sides finished 0-05 to 0-07
In the second half the visitors had kept that advantage as scores from Molloy and McFadden were answered by two free kicks from Stevenson.
Donegal were guilty of hitting too many wides but pulled themselves back into the match and level at ten points apiece.
Armagh had a chance of a goal – but a shot bounced back off the post and Frank McGlynn was able to clear.
A few minutes later St Eunan's man Rory Kavanagh scored a superb point, making up for a number of misses earlier in the game to edge Donegal into a 0-11 to 0-10 lead.
That was followed by a superb free from 45 metres from Colm McFadden to fire the home side a two-point lead.
Armagh were guilty of missing four clear points as everything they hit went wide including a scoreable free in injury time.
And the visitors had a goal chance through McKeever.
Adrian Hanlon added another point for Donegal fisting over after some great work in the Donegal defence.
Jim McGuinness was clearly delighted after the game as he went onto the pitch to congratulate his players.
The Donegal manager said afterwards: "We were far from perfect today and our selections were poor at times.
"But at the same time that our boys had a determination about them and it didn't matter if we hit a wide because they got up again and went it again.
"We had a lot more drive and energy today; from a coaching point of view we need to get them going from the start of a game."
He said his team hasn't trained as hard this season as they had last season but he paid tribute to the 'gritty determination' of his players.
With Toye, McGee and Murphy all missing, McGuinness was very happy with his players.
He said he now wanted his team to improve ahead of next month's Ulster Championship clash with Cavan – adding a a good offensive option to his team to work alongside Donegal's defensive qualities.
"That's the challenge for us; to bring that out in the boys," added Jim.
Armagh however are relegated to Division along with Laois.
DONEGALDAILY.COM MAN OF THE MATCH: DECLAN WALSH (DONEGAL)
Sunday's Allianz Football League results
Division 1
Laois 0-10 2-11 Down
Kerry 1-12 1-12 Mayo
Cork 1-12 0-12 Dublin
Donegal 0-13 0-10 Armagh
Ups and downs: Down to face Cork in Division 1 semi-finals with Kerry taking on Mayo in other semi-final. Laois and Armagh relegated
Division 2
Tyrone 1-16 1-06 Monaghan
Westmeath 1-15 0-10 Derry
Meath 1-8 2-14 Louth
Galway 0-18 2-12 Kildare
Ups and downs: Kildare join Tyrone in earning promotion after John Doyle's last-gasp penalty earns a draw against Galway. Monaghan relegated after heavy defeat at Omagh with Meath also suffering the drop after losing at home against Louth.
Division 3
Cavan 0-12 4-06 Antrim
Longford 2-12 1-13 Wexford
Tipperary 0-11 0-8 Offaly
Sligo 1-12 0-12 Roscommon
Ups and downs: Longford and Wexford promoted while Cavan survive despite defeat by Antrim after Offaly lose in Thurles.
Division 4
Carlow 0-08 1-16 Fermanagh
Leitrim 0-15 1-8 Waterford
London 0-12 1-16 Wicklow
Clare 2-29 1-4 Kilkenny
Promotion news: Fermanagh guarantee promotion to Division 3 after win in Carlow with a game to spare with Wicklow and Clare still battling for second spot.
HURLING RESULTS:
| | | |
| --- | --- | --- |
| Tipperary | 1-23 – 1-23 | Cork |
| Kilkenny | 3-26 – 0-10 | Galway |
| Waterford | 0-17 – 0-13 | Dublin |
| Clare | 0-21 – 1-16 | Limerick |
| Antrim | 0-17 – 3-22 | Limerick |
| Wexford | 4-18 – 0-15 | Laois |
| Offaly | 0-19 – 2-14 | Clare |
| Down | 2-20 – 3-21 | Westmeath |
| Derry | 0-15 – 1-07 | Kerry |
| Wicklow | 1-11 – 1-11 | Carlow |
| Mayo | 1-20 – 0-19 | Kildare |
| Armagh | 0-08 – 1-19 | Meath |
| Roscommon | 3-22 – 2-14 | London |
| Louth | 0-24 – 0-16 | Tyrone |
| Monaghan | 4-18 – 2-10 | Sligo |
| Fingal | 2-19 – 4-12 | Donegal |
| Leitrim | 2-10 – 2-20 | Warwickshire |
Tags: