The 16th North West 10k will be officially started by the joint Donegal Person of the Year Anne Marie Ward.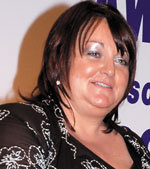 The news has been confirmed by 10k Chairperson Grace Boyle as the build up begins in earnest for the charity race and walk which takes place on Sunday, May 6th in Letterkenny.
The event is expected to attract more than 3,000 participants this year.
The charities who will benefit this year are the Buddy Bear Appeal; the Donegal Down Syndrome Association and MS Ireland Donegal.
All charities who register with the 10k committee will receive support including having their name posted on the website.
This is the 16th year of the North West 10k charity and to date the event has raised an overall total of 590,000 euro for 27 different charities.
In 2011 a record number of around 3,000 took part and the organizing committee is expecting that figure to be exceeded significantly this year. Among the high profile names that have already committed to walking the 10k on May 6th are the County Manager Seamus Neely and the Mayors of Donegal and Letterkenny Noel McBride and Gerry McMonagle.
Race Director Brendan McDaid is appealing to all runners to register on-line at www.northwest10k.com while the organizers are using a chip system this year for athletes, which will automatically record their times at the finishing line.