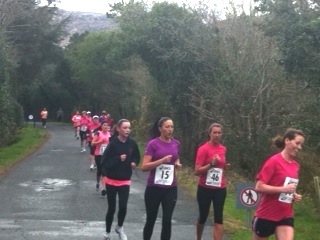 LETTERKENNY AC'S Fionnuala Diver won today's Glenveagh 5k as hundreds of women took part in the annual event around the grounds of the national park.
The sun shone on a mild day for the well-organised event.
Catherine Lilburn from City of Derry AC was second with Clare Devenney of Finn Valley AC in third.
But it was all about the taking part as thousands of euro was raised for charity by more than 200 runners and more than 200 walkers.
All the results are below:
| | | | | |
| --- | --- | --- | --- | --- |
|     1 | Fionnuala Diver |     18:11.9 | 184 | Senior Woman |
|     2 | Catherine Lilburn |     19:09.4 | 69 | Senior Woman |
|     3 | Clare Devenney |     20:22.1 | 118 | Senior Woman |
|     4 | Sinead Peoples |     21:00.2 | 126 | Senior Woman |
|     5 | Nicola Doherty |     21:06.3 | 102 | Senior Woman |
|     6 | Irene McFadden |     21:11.6 | 152 | Senior Woman |
|     7 | Helen McCready |     21:34.1 | 163 | Senior Woman |
|     8 | Noreen Bonner |     21:46.1 | 88 | Masters Woman |
|     9 | Margaret Shiels |     22:07.3 | 155 | Masters Woman |
|    10 | Cliodhna Dunne |     22:30.2 | 198 | Senior Woman |
|    11 | Catherine McKinley |     22:36.8 | 82 | Senior Woman |
|    12 | Gillian Marley |     22:55.8 | 144 | Junior Woman |
|    13 | Caroline McGuire |     23:12.6 | 190 | Senior Woman |
|    14 | Sharon Black |     23:13.6 | 130 | Senior Woman |
|    15 | Nancy McNamee |     23:16.6 | 191 | Masters Woman |
|    16 | Grace Friel |     23:17.3 | 38 | Masters Woman |
|    17 | Maura O'Grady |     23:23.6 | 66 | Masters Woman |
|    18 | Fiona Coyle |     23:24.6 | 97 | Senior Woman |
|    19 | Amanda McNulty |     23:28.1 | 147 | Senior Woman |
|    20 | Samantha Wilkinson |     23:31.2 | 72 | Senior Woman |
|    21 | Denise Muldoon |     23:35.3 | 33 | Masters Woman |
|    22 | Edel Carroll |     23:45.6 | 167 | Senior Woman |
|    23 | Fiona Jordan |     23:48.0 | 181 | Senior Woman |
|    24 | Aoife McElwaine |     23:49.7 | 127 | Senior Woman |
|    25 | Laura Moore |     23:50.0 | 140 | Senior Woman |
|    26 | Grainne McCafferty |     24:01.8 | 199 | Senior Woman |
|    27 | Isobel Breslin |     24:07.3 | 45 | Masters Woman |
|    28 | Gloria Donehy |     24:18.2 | 119 | Masters Woman |
|    29 | Amy O'Donnell |     24:18.5 | 43 | Junior Woman |
|    30 | Suzy Roarty |     24:19.7 | 21 | Masters Woman |
|    31 | Joanne Gallinagh |     24:33.8 | 182 | Senior Woman |
|    32 | Frances Gallagher |     24:34.0 | 121 | Senior Woman |
|    33 | Helena Hynes |     24:34.5 | 15 | Senior Woman |
|    34 | Pauline Sweeney |     25:07.2 | 34 | Masters Woman |
|    35 | Aoife McGrenaghan |     25:07.8 | 96 | Senior Woman |
|    36 | Nicola Ryan |     25:08.6 | 197 | Senior Woman |
|    37 | Tina Smith |     25:12.3 | 46 | Senior Woman |
|    38 | Debbie Housten |     25:15.1 | 183 | Masters Woman |
|    39 | Goretti Marley |     25:15.2 | 164 | Masters Woman |
|    40 | Elaine Gallagher |     25:22.9 | 51 | Senior Woman |
|    41 | Adele Kelly |     25:31.6 | 52 | Senior Woman |
|    42 | Kathryn Kavanagh |     25:34.7 | 54 | Senior Woman |
|    43 | Arlene Devenney |     25:34.8 | 19 | Senior Woman |
|    44 | Mary Carlin |     25:54.5 | 77 | Masters Woman |
|    45 | Fiona Deasley |     26:00.2 | 17 | Senior Woman |
|    46 | Deirdre Friel |     26:08.0 | 153 | Masters Woman |
|    47 | Sandra Ellison |     26:08.7 | 32 | Masters Woman |
|    48 | Megan Greene |     26:14.0 | 133 | Senior Woman |
|    49 | Caroline McAteer |     26:14.4 | 58 | Masters Woman |
|    50 | Mary Martin |     26:17.5 | 99 | Masters Woman |
|    51 | Mary Boner |     26:20.9 | 141 | Masters Woman |
|    52 | Sinead Giles |     26:21.1 | 105 | Senior Woman |
|    53 | Orla Nallen |     26:21.8 | 16 | Senior Woman |
|    54 | Bernie Crossan |     26:23.9 | 8 | Masters Woman |
|    55 | Ann Robinson |     26:25.7 | 111 | Senior Woman |
|    56 | Rachel Crossan |     26:28.1 | 7 | Senior Woman |
|    57 | Sinead Thornton |     26:31.3 | 203 | Senior Woman |
|    58 | Róise Diver |     26:36.4 | 90 | Masters Woman |
|    59 | Bridget Moore |     26:38.5 | 107 | Masters Woman |
|    60 | Aileen Boss |     26:39.6 | 4 | Senior Woman |
|    61 | Elaine Grant |     26:41.4 | 86 | Senior Woman |
|    62 | Sinead Trearty |     26:42.1 | 179 | Senior Woman |
|    63 | Clare Harkin |     26:43.6 | 37 | Senior Woman |
|    64 | Stacey Blake |     26:43.8 | 78 | Senior Woman |
|    65 | Catherine Crawford |     26:49.2 | 162 | Senior Woman |
|    66 | Catherine Boyle |     26:50.8 | 193 | Masters Woman |
|    67 | Anette Toye |     26:57.0 | 202 | Masters Woman |
|    68 | Louise Duddy |     26:57.0 | 91 | Senior Woman |
|    69 | Caitríona Gilligan |     26:59.8 | 180 | Senior Woman |
|    70 | Jackie Ireland |     27:04.9 | 40 | Masters Woman |
|    71 | Patricia Peoples |     27:07.0 | 44 | Senior Woman |
|    72 | Sally Sherry |     27:12.6 | 9 | Senior Woman |
|    73 | Margaret Moran |     27:14.7 | 53 | Senior Woman |
|    74 | Lynette Morgan |     27:23.3 | 71 | Senior Woman |
|    75 | Eileen Duggan |     27:24.8 | 158 | Masters Woman |
|    76 | Aileen MCCullagh |     27:25.8 | 136 | Senior Woman |
|    77 | Joanne Kilmartin |     27:27.0 | 139 | Senior Woman |
|    78 | Martina Mulhern |     27:27.1 | 1 | Senior Woman |
|    79 | Yvonne McGuinness |     27:31.7 | 189 | Senior Woman |
|    80 | Patricia Nutty |     27:32.2 | 42 | Senior Woman |
|    81 | Jessica Morrison |     27:33.6 | 6 | Senior Woman |
|    82 | Emma Wallace |     27:37.2 | 146 | Senior Woman |
|    83 | Ann Doherty |     27:46.6 | 101 | Senior Woman |
|    84 | Liz McFadden |     27:46.6 | 100 | Senior Woman |
|    85 | Sinead Scully |     27:47.2 | 18 | Senior Woman |
|    86 | Agnes Monaghan |     27:47.5 | 64 | Senior Woman |
|    87 | Rosemary McGee |     27:51.3 | 73 | Masters Woman |
|    88 | Una Harkin |     27:51.8 | 25 | Senior Woman |
|    89 | Tanya Hardiman |     27:51.9 | 74 | Senior Woman |
|    90 | Sinead Collins |     27:52.1 | 117 | Senior Woman |
|    91 | Noelle Sweeney |     27:53.7 | 55 | Senior Woman |
|    92 | Hazel McFadden |     27:54.7 | 93 | Senior Woman |
|    93 | Niamh McFadden |     28:02.1 | 79 | Senior Woman |
|    94 | Margaret McConnell |     28:06.4 | 110 | Senior Woman |
|    95 | Frances McBride |     28:09.3 | 128 | Senior Woman |
|    96 | Mary Ruddy |     28:10.9 | 108 | Masters Woman |
|    97 | Mairead Gallen |     28:12.4 | 186 | Senior Woman |
|    98 | Jean McGlinchey |     28:19.0 | 177 | Masters Woman |
|    99 | Ann O'Donnell |     28:19.7 | 123 | Senior Woman |
|   100 | Ann Tinney |     28:21.3 | 104 | Masters Woman |
|   101 | Caroline Toye |     28:23.3 | 149 | Senior Woman |
|   102 | Treasa Kelly |     28:24.4 | 106 | Senior Woman |
|   103 | Grace Garvie |     28:27.6 | 131 | Senior Woman |
|   104 | Geraldine Hunter |     28:29.6 | 11 | Senior Woman |
|   105 | Patricia O'Donnell |     28:31.7 | 122 | Senior Woman |
|   106 | Pauline Gallagher |     28:35.2 | 13 | Masters Woman |
|   107 | Mary McGrath |     28:36.9 | 192 | Senior Woman |
|   108 | Carolyn Duffy |     28:46.3 | 187 | Senior Woman |
|   109 | Tove O'Sullivan |     28:50.4 | 5 | Senior Woman |
|   110 | Louise Mailley |     28:50.7 | 137 | Senior Woman |
|   111 | Sadie Toye |     28:52.8 | 148 | Masters Woman |
|   112 | Aisling Dowds |     28:56.7 | 35 | Senior Woman |
|   113 | Vanessa Eastlick |     28:59.3 | 41 | Senior Woman |
|   114 | Sophie Kelly |     29:05.3 | 165 | Senior Woman |
|   115 | Michelle Sibbald |     29:11.7 | 56 | Senior Woman |
|   116 | Linda McCann |     29:12.4 | 115 | Masters Woman |
|   117 | Fiona Blaney |     29:12.6 | 138 | Masters Woman |
|   118 | Kathleen Hall |     29:20.8 | 172 | Senior Woman |
|   119 | Michelle O'Kane |     29:23.2 | 49 | Senior Woman |
|   120 | Dinese Harper |     29:27.5 | 120 | Masters Woman |
|   121 | Catriona Costello |     29:29.9 | 204 | Senior Woman |
|   122 | Andrea McFeely |     29:32.8 | 92 | Senior Woman |
|   123 | Aisling Gallagher |     29:32.9 | 94 | Senior Woman |
|   124 | Mary McFeely |     29:36.1 | 85 | Masters Woman |
|   125 | Annette Duddy |     29:41.4 | 170 | Masters Woman |
|   126 | Darina Ferry |     29:41.6 | 109 | Masters Woman |
|   127 | Michelle Green |     29:44.0 | 175 | Masters Woman |
|   128 | Lorna O'Donnell |     29:44.1 | 160 | Masters Woman |
|   129 | Martina McBrearty |     29:45.7 | 81 | Masters Woman |
|   130 | Cora Harvey |     29:48.0 | 185 | Senior Woman |
|   131 | Linda Sweeney |     29:53.0 | 95 | Senior Woman |
|   132 | Eimear Dowds |     29:54.5 | 36 | Senior Woman |
|   133 | Bronagh Herrin |     29:58.4 | 20 | Masters Woman |
|   134 | Aofe Doherty |     29:58.7 | 67 | Senior Woman |
|   135 | Sylvia Robinson |     30:02.2 | 112 | Senior Woman |
|   136 | Avril Larkin |     30:04.6 | 169 | Masters Woman |
|   137 | Elaine Robinson |     30:05.2 | 3 | Senior Woman |
|   138 | Niamh Gibbons |     30:05.5 | 168 | Senior Woman |
| | | | | |
| --- | --- | --- | --- | --- |
| 139 | Denise McElwaine |     30:09.0 | 84 | Senior Woman |
|   140 | Fiona Harkin |     30:12.4 | 28 | Senior Woman |
|   141 | Andrea McGettigan |     30:15.3 | 23 | Senior Woman |
|   142 | Anne Sheridan |     30:22.2 | 63 | Senior Woman |
|   143 | Fiona Quinn |     30:24.2 | 80 | Senior Woman |
|   144 | Alicia Coll |     30:33.0 | 50 | Junior Woman |
|   145 | Aishling Crawford |     30:33.5 | 87 | Senior Woman |
|   146 | Mairead McNutty |     30:35.9 | 48 | Senior Woman |
|   147 | Patricia McGrenra |     30:55.5 | 24 | Senior Woman |
|   148 | Marjory Russell |     31:00.6 | 103 | Senior Woman |
|   149 | Michelle McKinney |     31:13.2 | 29 | Senior Woman |
|   150 | Kerry McElhinney |     31:14.1 | 134 | Senior Woman |
|   151 | Noleen Duggan |     31:19.7 | 10 | Masters Woman |
|   152 | Patra Hanlon |     31:23.5 | 89 | Senior Woman |
|   153 | Louise Dunne |     31:29.3 | 135 | Senior Woman |
|   154 | Breege Burns |     31:37.8 | 22 | Masters Woman |
|   155 | Lynsey Harding |     31:38.6 | 57 | Senior Woman |
|   156 | Amanda Bonner |     31:51.6 | 26 | Senior Woman |
|   157 | Kireranna McCormick |     31:52.8 | 124 | Senior Woman |
|   158 | Grace Harkin |     31:56.0 | 195 | Junior Woman |
|   159 | Brenda O'Neill |     31:56.0 | 194 | Masters Woman |
|   160 | Ciara Doherty |     31:56.3 | 68 | Senior Woman |
|   161 | Eimear Gibbons |     32:00.6 | 171 | Senior Woman |
|   162 | Ginette McElwaine |     32:01.3 | 196 | Senior Woman |
|   163 | Mary Duddy |     32:03.9 | 145 | Senior Woman |
|   164 | Rachel O'Donnell |     32:09.6 | 125 | Senior Woman |
|   165 | Louanne Lappin |     32:17.3 | 157 | Senior Woman |
|   166 | Siobhan Kelly |     32:18.1 | 83 | Senior Woman |
|   167 | Agnes Devenney |     32:22.3 | 39 | Masters Woman |
|   168 | Angie McDaid |     32:34.9 | 178 | Senior Woman |
|   169 | Roisin Kenny |     32:38.2 | 154 | Senior Woman |
|   170 | Bernie O'Donnell |     32:47.9 | 12 | Masters Woman |
|   171 | Margaret Eastwood |     32:49.3 | 98 | Masters Woman |
|   172 | Maureen Gallagher |     33:01.3 | 159 | Senior Woman |
|   173 | Sandra Ward |     33:01.8 | 188 | Masters Woman |
|   174 | Michelle McNeal |     33:02.5 | 166 | Senior Woman |
|   175 | Rosemary Boggs |     33:04.7 | 2 | Masters Woman |
|   176 | Sarah Doherty |     33:38.7 | 132 | Senior Woman |
|   177 | Sheena Stewart |     33:39.1 | 151 | Masters Woman |
|   178 | Lillian Lee |     33:46.7 | 150 | Masters Woman |
|   179 | Catriona McDaid |     33:47.0 | 156 | Senior Woman |
|   180 | Siobhan McLaughlin |     33:47.2 | 142 | Senior Woman |
|   181 | Amiee Doherty |     33:48.1 | 30 | Senior Woman |
|   182 | Shaunen Cleary |     33:48.6 | 31 | Senior Woman |
|   183 | Elaine Wilkin |     33:57.6 | 176 | Senior Woman |
|   184 | Rosemary Sharkey |     34:20.9 | 62 | Senior Woman |
| | | | | |
| --- | --- | --- | --- | --- |
|   185 | Kathy McGee |     34:36.9 | 59 | Senior Woman |
|   186 | Marie Davell |     34:38.3 | 116 | Masters Woman |
|   187 | Ann McGinley |     35:07.5 | 173 | Masters Woman |
|   188 | Veronica McBride |     35:09.7 | 174 | Masters Woman |
|   189 | Rosemary Lane |     35:59.0 | 14 | Junior Woman |
|   190 | Noreen McGlynn |     36:35.5 | 60 | Senior Woman |
|   191 | Ursala Rogers |     37:21.0 | 75 | Senior Woman |
|   192 | Ann-Louise Scott |     37:31.9 | 27 | Senior Woman |
|   193 | Treasa Doherty |     37:47.3 | 70 | Senior Woman |
|   194 | Michelle McDaid |     40:14.0 | 200 | Senior Woman |
|   195 | Tara McDaid |     40:14.6 | 201 | Senior Woman |
|   196 | Clare McBride |     40:15.3 | 129 | Senior Woman |
|   197 | Frances McBride |     40:49.9 | 143 | Senior Woman |
|   198 | Joan McHugh |     43:09.0 | 65 | Masters Woman |
|   199 | Hanna Bouvaird |     44:34.7 | 114 | Junior Woman |
|   200 | Sinead McNutty |     46:45.6 | 47 | Senior Woman |
|   201 | Tina Bouvaird |     46:47.0 | 113 | Senior Woman |
|   202 | Patricia Martin |     46:51.6 | 76 | Senior Woman |
|   203 | Denise Bradley |     47:22.4 | 161 | Masters Woman |
| | | | | |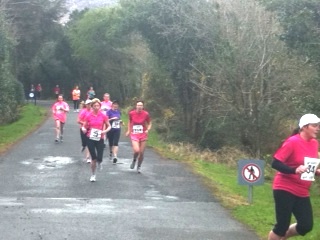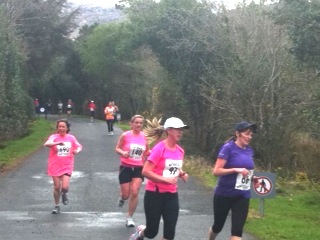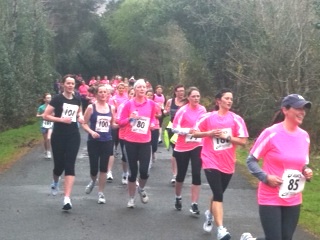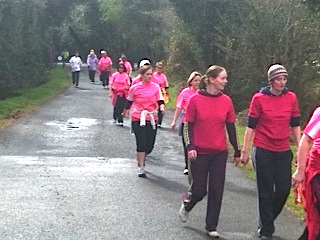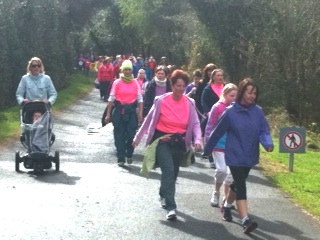 Tags: