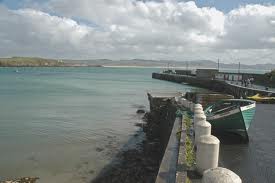 Minister of State for Tourism & Sport Michael Ring has announced details of a new overseas joint tourism marketing campaign from a range of funding sources to boost tourism to the Western Region from Great Britain, Germany, France and Italy. Funding of €1 million has been allocated.
The funding is coming through Fáilte Ireland, five local authorities (Donegal, Sligo, Leitrim, Mayo and Roscommon), Tourism Ireland, the Western Development Commission and Ireland West Airport Knock, towards the Western Region Tourism Marketing Programme.
Failte Ireland, the national tourism development authority, is providing €600,000 of the €1 million total. It is estimated that the overall total campaign spend could actually reach €1.4 million as additional value is also leveraged from key carrier and tour operator partners overseas.
Speaking at the launch, Minister Ring welcomed the funding boost and commended all those involved in the initiative: "Through this campaign, we aim to heighten awareness of the region as a holiday destination in particular in our key overseas markets such as Great Britain and mainland Europe.  With the added bonus of new flight routes secured for Ireland West Airport Knock, the West of Ireland is now truly set to sell itself as a must-see destination for overseas holidaymakers."
Today's news comes as new routes have just commenced from Ireland West Airport Knock with Ryanair operating four routes (Frankfurt – Hahn, Paris – Beauvais, Milan – Bergamo & Barcelona – Girona).  These new routes started last month and will operate three times each week (Barcelona two times per week).  In addition, Lufthansa will launch a new weekly Dusseldorf service on May 12th which will run throughout the high season.
The programme will see additional promotional activities for the West rolled out in the overseas markets.  Using radio, print and online advertising as well as direct mail promotions and radio competitions, the campaign aims to highlight outdoor and adventure activities in the West and North West regions as well as showcasing the wealth of heritage and culture on offer.
Speaking today, Shaun Quinn, Fáilte Ireland's CEO, stressed: "This campaign will build on the momentum created by the new direct access routes in the West and this is great news for the tourism industry, local businesses and the local economy.
"The joined-up approach being taken to promote tourism in the region is an example of how agencies, local authorities and private companies can work together pooling both resources and budgets to ensure much greater impact internationally."
The campaign represents an additional marketing 'drive' for this region.  It comes on top of the very extensive overseas promotional activity Tourism Ireland is already rolling out for the Western Region across top markets.
Niall Gibbons, Chief Executive of Tourism Ireland, said: "Working closely with airlines and airports to drive tourism into the West is a key priority for Tourism Ireland and we are delighted to bring our overseas marketing experience to the initiative and to collaborate with all the partners.
"The new marketing programme will undoubtedly help drive demand for services to Ireland West Airport Knock and grow the number of overseas visitors to Mayo, Leitrim, Roscommon, Sligo and Donegal."
Tags: