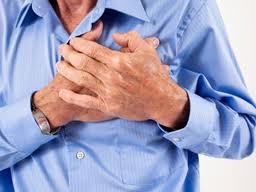 CARDIAC ARREST: It could be your son, daughter, loved one or a complete Stanger! Would you know what to do?
IN this special article for donegaldaily.com John McShane from First Aid Plus tells you more:
Sudden cardiac arrest is one of the leading causes of death worldwide; around 6000 people die in Ireland with heart related problems each year. That's approximately 16 people every day or one person every 90 minutes dying from a sudden cardiac arrest.
People with heart disease, high cholesterol and other medical conditions would be at a higher risk of having a cardiac arrest, but this is not always the case. The most shocking aspect of the high number of cardiac related deaths per year is that it is sometimes young, fit people who are the victims.
During a sudden cardiac arrest the heart stops pumping which is usually due to an electrical malfunction of the heart. The person collapses, stops breathing and quickly loses consciousness due to lack of blood flow and oxygen to the brain.  This is what happened recently to the premiership football player Fabrice Muamba during an FA cup match against Tottenham Hotspur on the 17 March 2012.
Death quickly ensues unless a normal heart rhythm can be restored within a few minutes. The only effective treatment for this is defibrillation, which is giving the heart a shock with a medical device called a defibrillator which basically resets the heart so it can begin its normal pumping action.
Defibrillators are also referred to as automated external defibrillators (AEDs) and these can found in some shopping centres, sports centres and several other public buildings. AEDs can be mounted on walls for trained people to use during an emergency.
Witnessing a sudden cardiac arrest is a stressful situation especially in a young person such as a teenager, child or infant all of which requires quick actions. First of all the emergency services must be called for and also, if possible an AED sought. If you haven't been trained on the use of an AED, there is a task that can be performed which may help improve the likelihood of a successful outcome. Cardiopulmonary resuscitation (CPR) is a skill that involves manual chest compressions and "mouth to mouth" rescue breathing. CPR by itself is unlikely to restart a heart that has stopped. However, CPR may make the difference between life and death because it helps to maintain blood flow and oxygen to the brain until defibrillation has restored a normal heart rhythm. In effect, CPR can be considered to be a "holding measure" until more advanced treatment is possible.
When it is a younger person that's affected, under the age of 40, the name given to a victim of a cardiac arrest is sudden cardiac death (SCD) also previously called Sudden Adult Death Syndrome. Approximately one in every twenty cases of SCD the cause can not be determined; this then is known as Sudden Arrhythmic Death Syndrome (SADS).
Training courses are available to train the general public and employees to become responders of these types of incidents. The course's can also be accredited to nationally and internationally recognised organisations such as the American Heart Association/Irish Heart Foundation (AHA/IHF) and the Pre Hospital Emergency Care Council (PHECC). These courses train you to use an AED, perform CPR and much more. Most AED machines look and operate in the same manner with some giving voice and visual prompts to the user. Once you train with a certain model of an AED, you can then use almost all models. This is a huge bonus as every minute is vital in order for the casualty to survive. It is estimated that for every minute which passes with no CPR or treatment being performed a casualty chances of survival lessens by 10%.
With the proper training in the use of AEDs and how to perform CPR, anyone can become a life saving responder.  CPR and AED courses are run all over the county every few weeks and cover all age groups from Adults to Infants. We also offer online training which you can be completed in the comfort of your own home after which you can attend one of our practical session workshops and put all which you have learned online into practice. The practical session workshops are only 1-2hr in duration.   Should you need any more information on upcoming courses, please get in contact with 'First Aid Plus'.
You can click here for more information: http://www.firstaidplus.ie/
Tags: