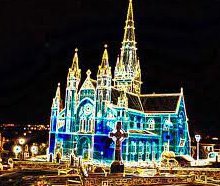 A NEW initiative to raise awareness of autism will see many buildings and landmarks in Letterkenny turn blue for tonight – including the town's landmark St Eunan's Cathedral.
The Letterkenny Autism Family Support Group (LAFSG) is behind the initiative which will also see the Polestar and Dry Arch roundabouts lit up blue to encourage awareness of autism.
There has been a huge surge in the number of people being diagnosed with the condition in Co Donegal.
Said spokeswoman Breda McCloskey: "A new diagnostics team was set up last year through the HSE's Early Intervention Team. As a result of this there has been a surge in the number of children diagnosed with autism in Letterkenny.
"The reason is that before, there was only one person who was able to diagnose, but now with the dedicated team it is becoming a lot easier."
LAFSG is providing support to more than 100 families in the Letterkenny area. It was set up in 2009 to provide support and assistance to the parents and families of children with autism.
The group thanked local people and businesses in Letterkenny for supporting today's initiative.
"We hope that by turning things blue it will make people stop and think," she added.
Tags: