Many of the familiar faces (and some new ones!) gathered yesterday to mark the magical €1 million milestone reached by the amazing Shop LK voucher scheme.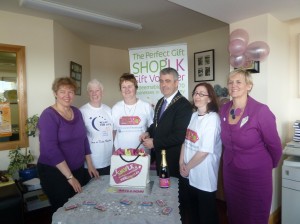 From small beginnings but with a big vision Shop LK, that started way back in 2004, the scheme has come so far in such a relatively short time – less than ten years.
With a vision to promote local shopping Letterkenny Chamber devised Shop LK as a way to encourage people to shop local. In 2006 the first voucher was bought by Kathleen Dunworth from Ramelton and year on year sales of Shop LK vouchers have been soaring ever since.
Whether they are bought as gifts, prizes, treats, or staff bonuses, Shop LK Vouchers have really caught the imagination of the general public and it has become one of the most successful local shopping schemes nationally.
Shop LK is run by Letterkenny Chamber with all revenue being invested back into the brand through advertising and promotion. With sales increasing over the last two years by over 25% per year Shop LK has reached it's first €1million sooner than expected and the Chamber and Shop LK participants are celebrating.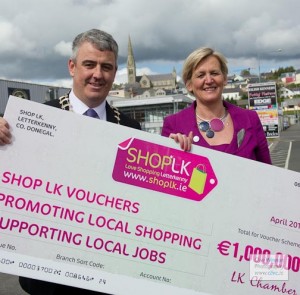 To mark this important milestone Letterkenny Chamber had a celebration coffee morning for invited guests including the Mayor, Councillors and some of the many businesses that participate in the scheme.
At the event John Watson, Chamber President said " We are so proud of the success of Shop LK . It is a credit to those who came up with the idea in 2004 who had the vision to see that it would be a huge success. We have nurtured and developed the Shop LK concept and consider it to be our flagship brand that is well recognised in Letterkenny and the surrounding area.
"This €1million has been spent right here in Letterkenny and it's not just about the money. Each time a voucher is bought it reinforces the idea of local shopping, of supporting local businesses and protecting local jobs. This is one of the most successful initiatives of its kind, we led the way and we are now seeing the results.
He continues "We also know that there is a multiplier effect as customers consistently spend more than the voucher value so we can assume at least double the value is spent in each transaction. So whether people got the vouchers as a gift, a bonus or just a treat they are showing their support for this local initiative."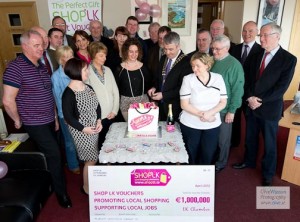 Shop LK Vouchers, that are valid for a year, are bought all year round by individuals, groups and businesses whose staff have opted to have them instead of cash bonuses. The Shop LK initiative offers local consumers an opportunity to support their local town in a really tangible way.
John continues "Shop LK is more than vouchers. It's about promoting Letterkenny as a retail destination, the commercial hub of the county. Letterkenny provides something unique not found in neighbouring towns and cities – a Main Street with many independent traders, a local town feel with high street names, a clean well kept town, ample and reasonably priced parking close to the shopping areas and not least helpful and friendly staff who will go that extra mile to give customers exactly what they need. The "Shop LK – Love Shopping Letterkenny" brand helps to underpin all that is good about shopping in Letterkenny for local people and visitors alike."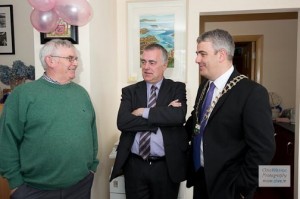 Letterkenny Chamber makes no money from the sale or redemption of vouchers so every cent brought in through Shop LK is invested back into the promotion of the brand throughout the year. This year with financial assistance from Letterkenny Town Council Shop LK will embark on a promotional campaign to really put Letterkenny on the map. This year it is intended to get the message out to everyone in the North West and Northern Ireland that Letterkenny is the place to be for a wide variety of shops and choice all in one place all wrapped up in excellent service.
Shop Vouchers are bought all year round and the €1million has been spent on a wide variety of goods and services, from an oil fill to a beauty treatment, from a gourmet meal to a quick sandwich, from weekly grocery shopping to the perfect gift. Over 90 outlets, from household names to local independent traders accept the vouchers reflecting the fantastic variety that is available in Letterkenny. Available in €5, €10 and €20 denominations they make the perfect gift for old and young alike, for families, for those moving house or getting married. The list of uses is endless.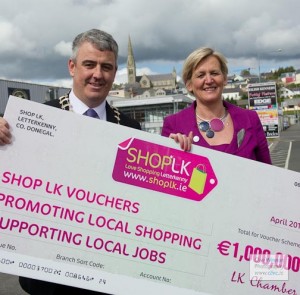 Toni Forrester of Letterkenny Chamber who has watched the initiative develop and mature over the last 3 years says "Reaching the €1m milestone is great news for Letterkenny Chamber, great news for the 90 Shop LK members that contribute so much to the scheme and great news for Letterkenny. It's been great to be able to celebrate today with the people who make it happen, those who came up with the idea in the first place and those who have supported Shop LK all along.
"We are also delighted to say that the person who bought the voucher that brought us to this grand total was young Letterkenny woman Elaine Callaghan who called in to the Chamber over Easter and is a regular customer. Elaine and everyone who has contributed to this fantastic achievement ensures that Shop LK will be around well in to the future and that the next million will not be long in coming round."
At the celebration the Chamber President thanked all the participating outlets, all of those who have worked on Shop LK over the years and very importantly the Chamber community employment staff that carry out all the work associated with the vouchers day and daily. It is these frontline staff in the Chamber that provide the resources throughout the year to make Shop LK such a success.
Visit the Shop LK website www.shoplk.ie
Notes:
Shop LK – Love Shopping Letterkenny – local shopping initiative
18th April @ 11am – Coffee & Cake to celebrate reaching the €1m milestone.
Vouchers started to be sold in 2006
€1m sold.
First buyer, Kathleen Dunworth, Ramelton.
€1m buyer, Elaine Callaghan, Letterkenny
Tags: