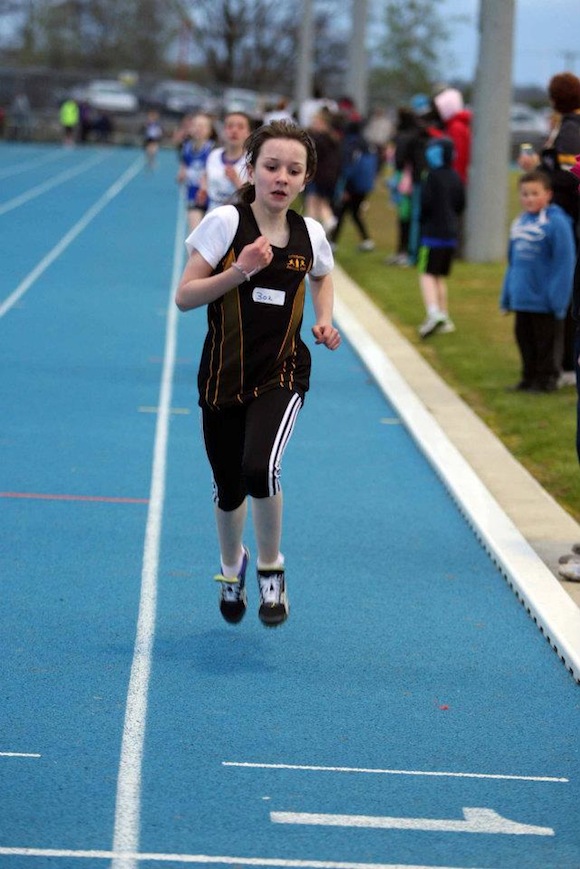 An early season meet held Wednesday at Finn Valley attracted 15 clubs and proved a positive enough exercise despite the bitterly cold conditions.
Some 300 plus athletes turned out, with the performance highlight being a Personal Best shot from John Kelly from the host club 16.16m and another Persona Best for Sara Moore, Omagh.
The next athletics meet on the Valley track is the local area primary school challenge, an annual affair on May 15/16.
RESULTS FROM FINN VALLEY A.C. OPEN TRACK AND FIELD MEETING – 25th April
U8 Girls 60m
Zara Burke, Olympian
Abbie McGranaghan, Finn Valley
Abigail Temple Asokuh, Finn Valley
U9 Girls 60m
Brenda Carr, Finn Valley
Aloisha Cuskelly, Lifford
Cassie Donaghy, Inishowen
U8 Boys 60m
Ryan Galvin, Finn Valley
Oran McMenamin, Cranford
Jordan Ryan, Milford
U9 Boys 60m
Oran McLoughlin, Inishowen
Paul Ryan, Milford
Michael McLoughlin, Inishowen
U10 Girls Ball Throw
Zara Burke, Olympian, 18.28m
Eva Gallagher, Cranford, 15.67
Lauren Hegarty, 13.32m
U16 Girls Long Jump
Tara Leech, Sligo, 4.32m
Susan O'Donaghue, Sliagh League, 4.20m
Shannon Bonner, Sliagh League, 4.13m
Over 16 Girls Long Jump
Sarah Hannah Ward, Olympian, 3.80m
Over 16 Boys Long Jump
Brian Breslin, Lifford, 5.86m
Conall Mahon, Enniskillen, 5.41
Bertram Barrett, Lifford, 5.02m
U16 Boys Long Jump
Ian Brennan, Finn Valley, 5.21m
Fergus Cox, Inishowen, 4.47m
Alan Porter, Lifford, 4.30m
Over 16 Shot Putt
John Kelly, Finn Valley, 16.16m
Bosco Reid, Finn Valley, 10.91m
Ryan Stewart, Finn Valley, 10.87m
U10 Boys 60m Final
Alan Quigley, Lifford
Adhran McLoughlin, Inishowen
Seamus Harley, Inishowen
U12 Girls 60m Final
CiaraBonner, Letterkenny
Danella Jansen, Finn Valley
Aine Kerr, Finn Valley
U12 Boys 60m Final
Oisin McElhinney, Finn Valley
Pauric Harold, Finn Valley
Shane McMonagle, Finn Valley
U14 Girls 80m Final
Janine Boyle, Finn Valley
Michaela Lyons, Olympian
Sommer Lecky, Finn Valley
U14 Boys 80m Final
Eoin Kelly,  Cranford
Joseph Doherty, Letterkenny
Thomas Mullen, Lifford
U10 Boys Long Jump
Peter Leech, Tireragh AC 3.52m
Dean Quigley, Lifford, 3.40m
Oran Sweeney, Finn Valley, 3.30m
U12 Boys Long Jump
Dillon Woods, Finn Valley, 3.77m
Oisin McElhinney, Finn Valley, 3.75m
Ronan Gallagher, Cranford, 3.75m
Over 16 Boys High Jump
Adam Gallagher, Tirchonaill, 1.60m
Dominic Gallagher, Sliagh League, 1.55m
Oisin McDermott, Milford, 1.35m
U16 Boys High Jump
James Clarke, Olympian, 1.45m
C. O'Loughlin, Tir Chonaill, 1.35m
Over 16 Girls High Jump
Blaithnaid Patton, Finn Valley, 1.40m
Simone Crawford, Finn Valley, 1.30m
U16 Girls High Jump
Karen Kelly, Finn Valley, 1.30m
Kathleen Craig, Lifford, 1.30m
Nicole Cuskelly, Lifford, 1.30m
U16 Boys 80m Final
 Kevin Mc Gill, Olympian
Alan Porter, Lifford
Graham Kerry, Sligo
Over 16 Men 100m
Jordan Hylton, Lagan Valley
Martin O'Donnell, Olympian
Daniel Borgan, Tirchonaill.
U16 Girls 100m
Stacey Kerr, Sligo
Pauline Kelly, Cranford
Christina Logue, Olympian
Walk
Orla Delahunt, Sligo
Robbie Kelly, Sligo
Niamh Murphy, Finn Valley
Aoife McLaughlin, Finn Valley,
Ciara Phelan, Finn Valley
Emer McCauley, Finn  Valley
Over 16 Girls 300m
Emily Burns, Sligo
Stacey Kerr, Sligo
Olivia Webb, Olympian
Over 16 Boys 300m
Kieran Elliott, Sligo
Zak Irwin, Sligo
Shaun Woods, Finn Valley
U12 Boys High Jump
Oisin McElhinney, Finn Valley, 1.20m
Alex McGeehin, Finn Valley, 1.20m
U10 Girls Long Jump
Caoimhe Thompson, Finn Valley, 2.85m
Charlene Patton, Finn Valley, 2.68m
Aoife Giles, Cranford, 2.68m
U14 Boys Long Jump
Dillon Kearns, Killybegs, 4.46m
Eoin Kelly, Cranford, 4.32m
Alan McGinley, Lifford, 4.16m
U12 Girls Shot Putt
Aoife Doherty, Finn Valley, 5.59m
Megan Moss, Finn Valley, 5.48m
Niamh Murphy, Finn Valley, 5.45m
U12 Boys Shot Putt
Charlie Worth, Letterkenny, 7.79m
Mark McElhinney, Finn Valley, 7.17m
Rory O'Donnell, Milford, 6.16m
U14 Girls Shot Putt
Naoimh McGranaghan, Finn Valley, 10.74m
Eadaoin O'Raw, Inishowen, 8.29m
Alton Murphy, Letterkenny, 7.70m
U14 Boys Shot Putt
James Kelly, Finn Valley, 11.37m
Joshua Fullton, Letterkenny, 7.86m
James Sweeney, Letterkenny, 6.96m
U16 Girls Shot Putt
Molly Donovan, Sliabh League, 8.15m
Emer McNern, Sliabh League, 7.81m
Sarah Conroy, Sliabh League, 7.15m
U16 Boys, Shot Putt
Mark Hegarty, Tir Chonaill, 10.78m
Gavin McLaughlin, Finn Valley, 10.57m
3000m Mixed
James Speight, 9.21
Gerard Gallagher, 9.24
Mark Bonner, 9.42
James Geough, Sligo, 9.58
Duayne Long, 11.32
Andy Scanlon, 11.50
Martin Anderson, 12.40
Charmaine O'Brien, 12.52
Sean McMenamin, 13.36
Mary Speight, 13.36
Sharon Hamilton, 14.30
Bernie Maguire, 15.53
Keran McHale, 16.01
Colleen O'Brien, 18.31
U12 Girls Long Jump
Aine Kerr, Finn Valley, 3.60m
Kate Smith, Lifford, 3.58m
Clare Doherty, Letterkenny, 3.38m
U14 Girls Javelin
Naoimh McGranaghan, Finn Valley, 26.88m
Sinead Doherty, Finn Valley, 8.82m
Niamh Doherty, 7.76m
U14 Boys Javelin
Gareth Crawford, Strabane, 33.04m
Dylan Kearns, Killybegs, 23.09m
Charlie Worth, Letterkenny, 20.78m
U16 Girls Javelin
Holly Donavon, Sliabh League, 15.80m
Emer McNern, , Sliabh League, 10.40m
Sarah Connolly, Sliabh League, 10.06m
U16 Boys Javelin
Darryl Crawford, Strabane, 36.51m
Fergus Cox, Inishowen, 35.01m
Alan Porter, Lifford, 34.50m
U12 Girls Ball Throw
Una Cox, Inishowen, 25.61m
Jennifer Sanches, Finn Valley, 21.90m
Danielle Johnson, Finn Valley, 21.72m
U12 Boys Ball Throw
Charlie Worth, Letterkenny. 36.80m
Sean Martin, Letterkenny, 33.87m
Martin McElhinney, Finn Valley, 33.41m
U10 Boys Ball Throw
Killian Browne, Cranford, 28.20m
Jamie Lecky, Finn Valley, 26.80m
Peter Leech, Sligo, 26.34m
U14 Boys 800m
Arron McGlynn, Finn Valley
Brian McNamee, Finn Valley
Eoin Kelly, Cranford
U16 Boys 800m
Oisin Gallen, Finn Valley
Mark Hegarty, Tir Chonaill
Conor Edwards, Olympian
Over 16 800m
Mark McGuinness, Tir Chonaill
Dean Toland, Finn Valley
Christopher Murray, Finn Valley
Over 16 Girls 800m
Sara Moore, Omagh Harriers
U16 Girls 800m
Caitlinn McGonagle, Sligo
U10 Girls 500m
Corrie Doherty, Inishowen
Andrea Browne, Finn Valley
Cara McConnell, Finn Valley
U10 Boys 500m
Michael McLaughlin, Inishowen
Dean Quigley, Lifford
Seamus Harley, Inishowen
U12 Girls 600m
Aoife Morris, Sligo
Zoe Kelly, Finn Valley
U12 Boys 600m
Jack Gillespie, Finn Valley
Shane McMonagle, Finn Valley
Keith McColgan, Finn Valley
U14 Girls 800m
Saoirse Callaghan, Letterkenny
Aisling Altan Murphy, Letterkenny
Michaela Lyons, Olympian
U16 Girls 800m
Denise McLaughlin, Finn Valley
Eve Travers, Tir Chonaill
Caitlin Travers, Tir Chonaill
Over 16 Javelin
Mark Doherty, Lifford, 37.12m
Jeremy Worth, Letterkenny, 30.94m
Bertram Barrett, Lifford, 26.03m
U14 Boys High Jump
Conal Lynch, Lifford, 1.40m
Thomas Mullan, Lifford, 1.25m       )Joint
Aaron McGlynn, Finn Valley 1.25m)
Alan McGinley, Lifford, 1.25m        )
Brandon Connolly, Lifford, 1.25m    )
U14 Girls High Jump
Shannon Craig, Lifford, 1.30m
Orla Coughlan, Tir Chonaill, 1.20m
Shauna McFadden, Letterkenny. 1.15m
U14 Girls Long Jump
Janine Boyle, Finn Valley, 4.52m
Niamh Doherty, Finn Valley, 3.88m
Sommer Lecky, Finn Valley, 3.82m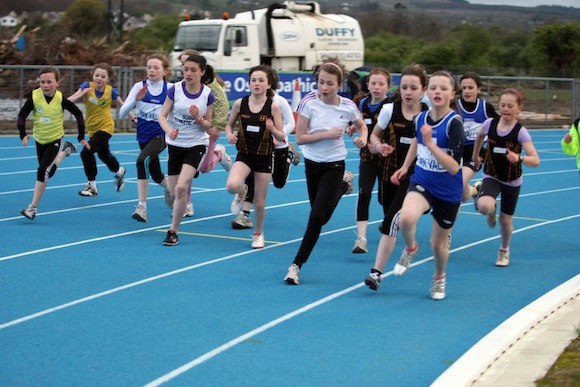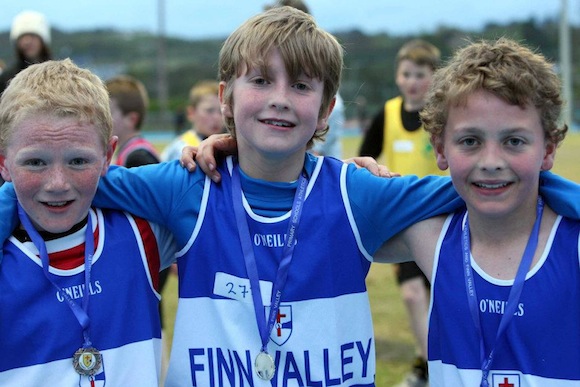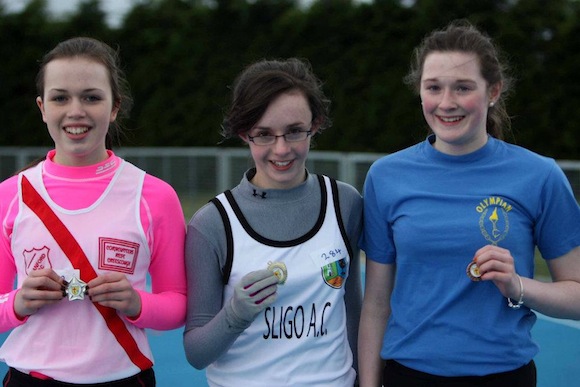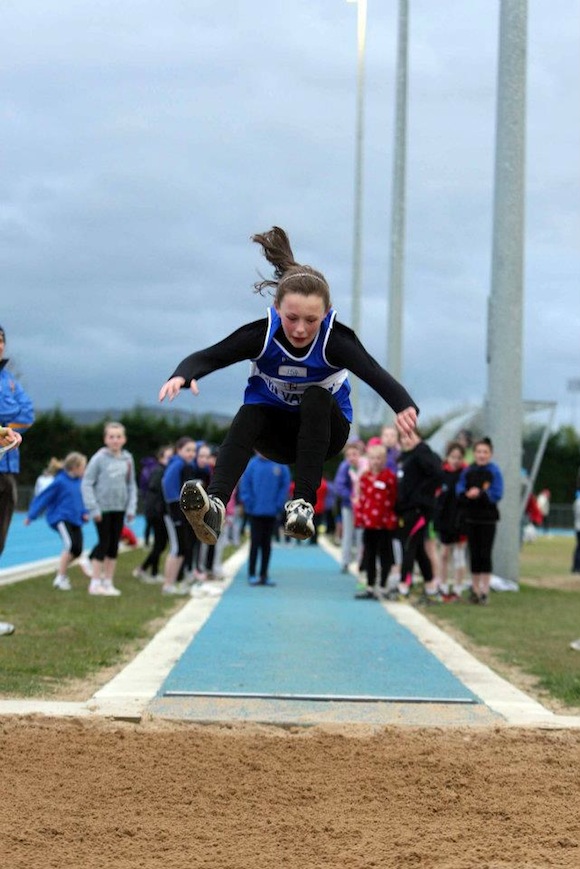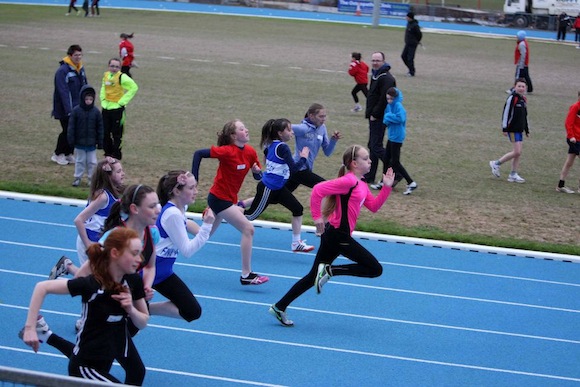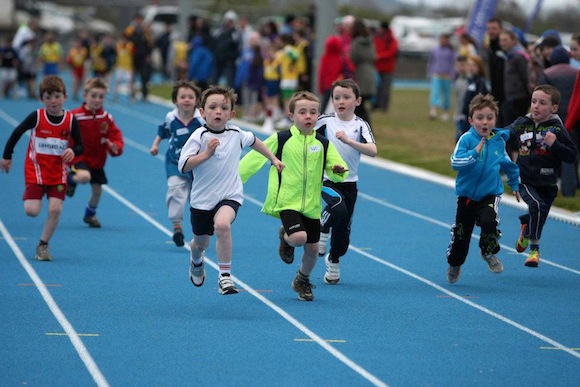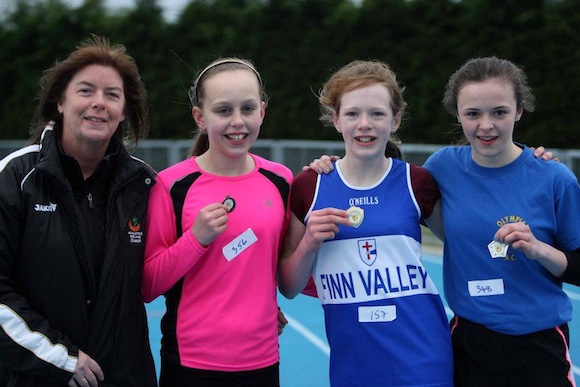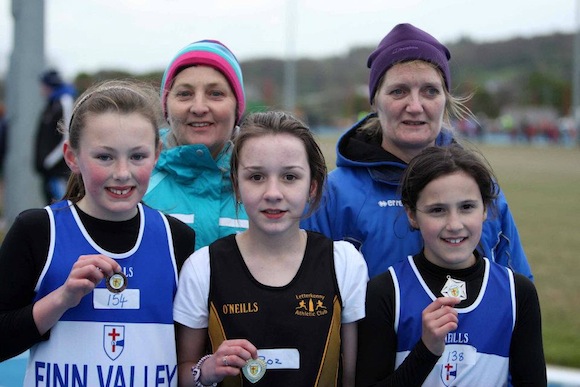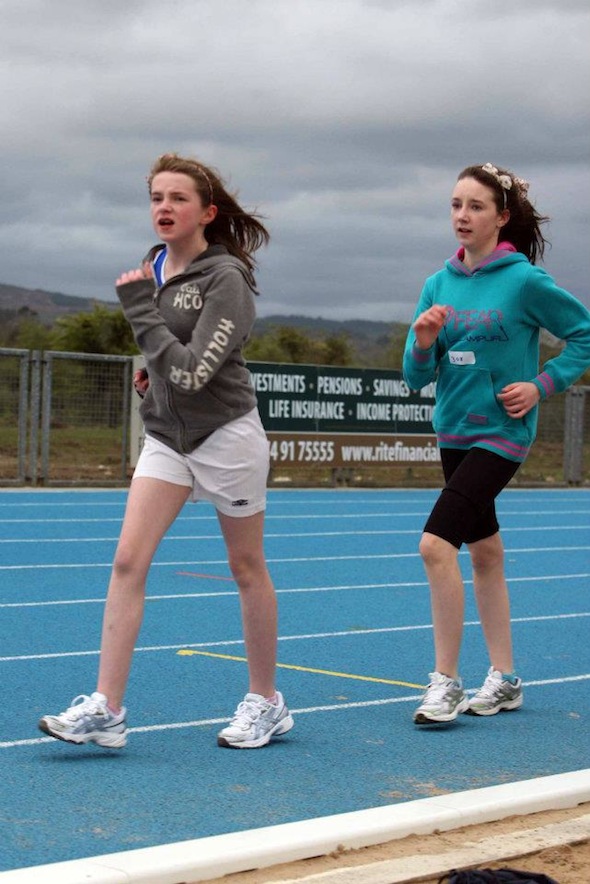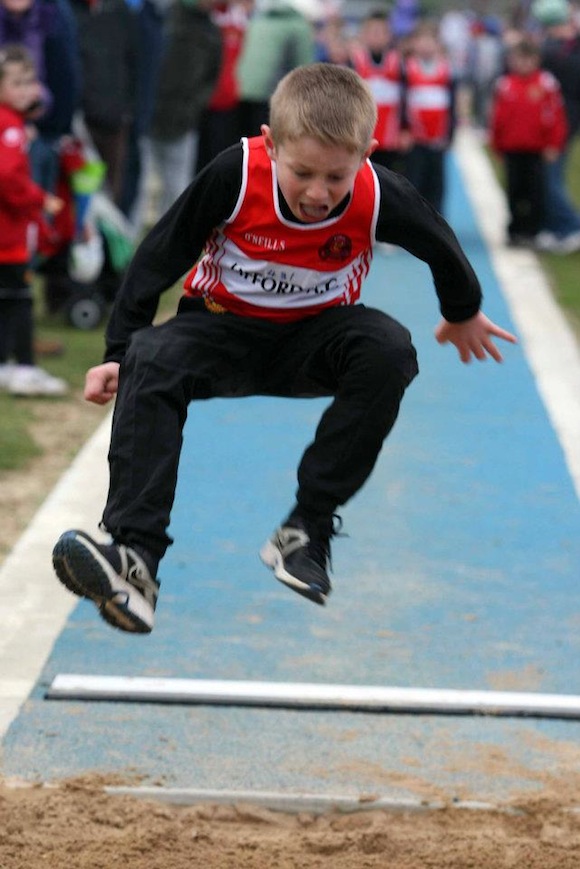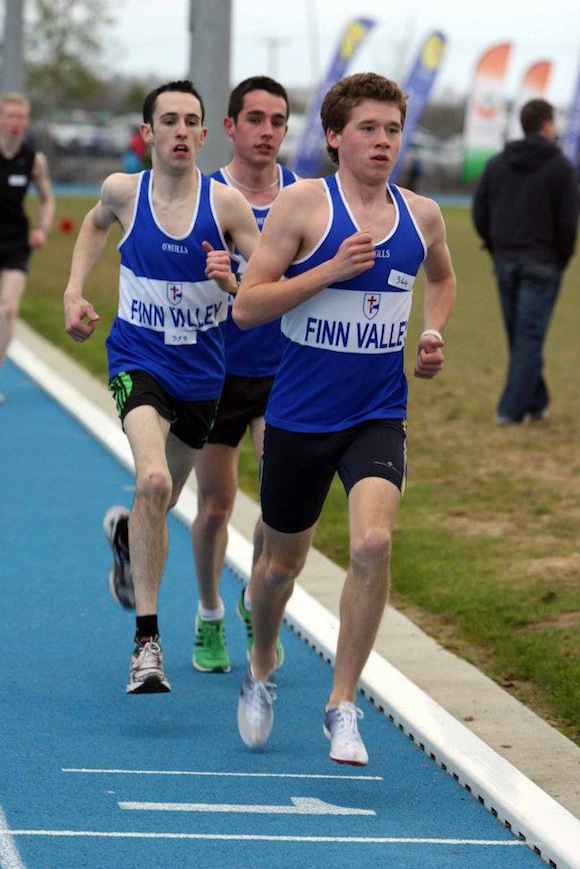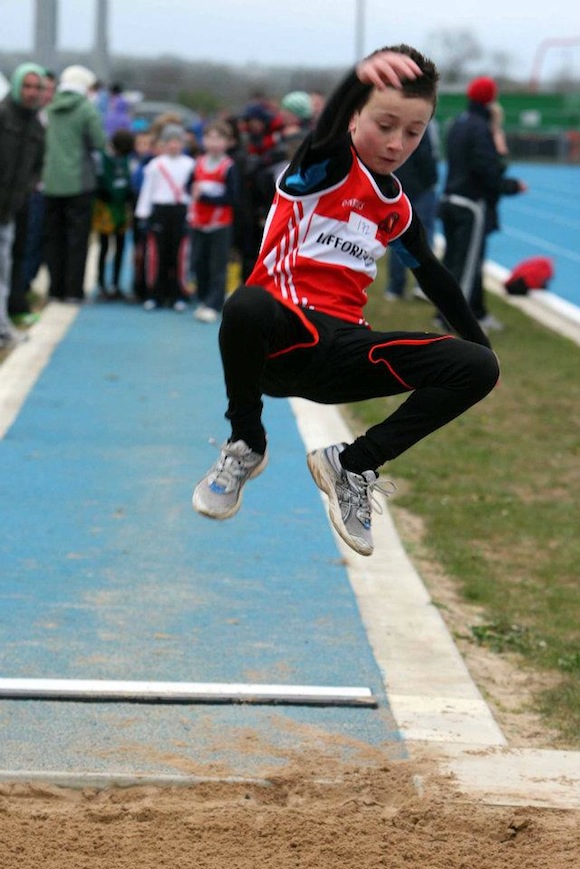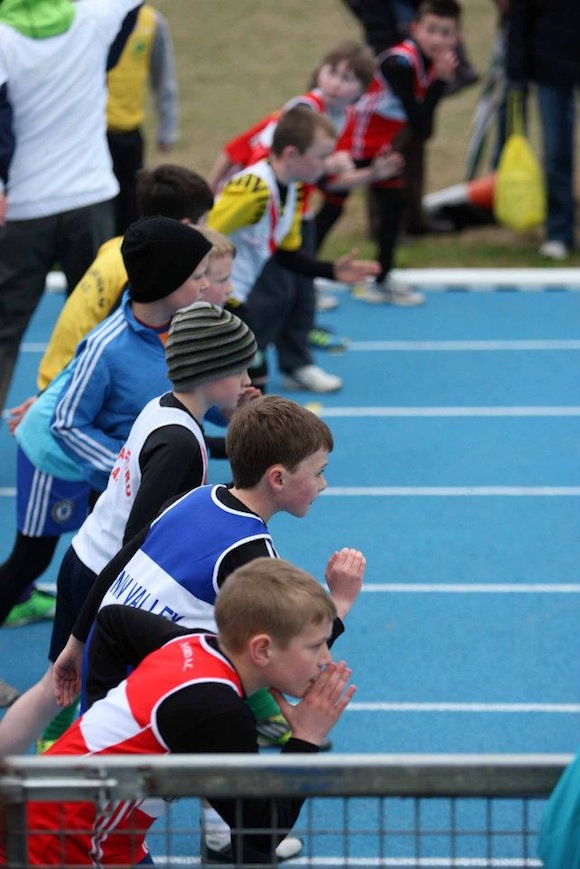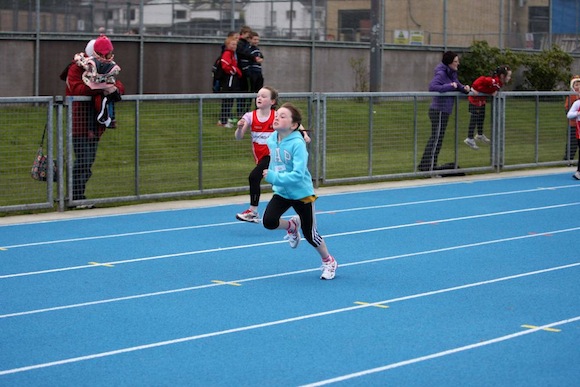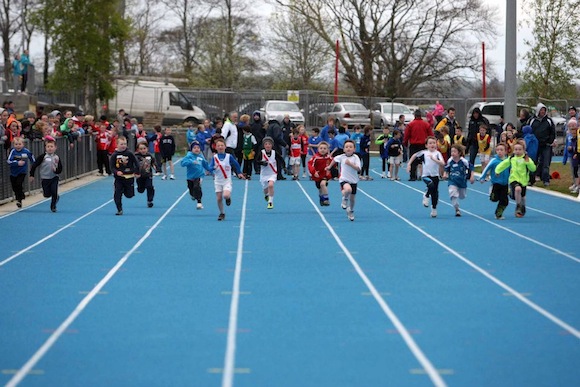 Tags: