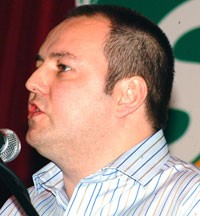 THE Governor of the Central Bank Patrick Honahan is under fire after publicly banking a 'Yes' vote in next month's referendum
The Sinn Féin spokesperson on foreign affairs and Donegal TD Padraig Mac Lochlainn said that a man "paid by the taxpayers should be more considerate of the role he plays."
Deputy Mac Lochlainn said that Governor Honahan was entitled to his own opinion as an individual but should not be using his role to endorse the Treaty.
The Inishowen TD said: "Every individual is entitled to their own opinion in this referendum. Vested interest groups and political parties are entitled to lobby for and advocate their position. Sinn Fein is clearly advocating a No position. But public servants, which Governor Honahan is, are paid by the taxpayer and therefore representative and accountable to all taxpayers.
"Not all taxpayers endorse this Treaty and not all taxpayers will be happy hearing the Governor of their central bank wade into the political arena to advise them how to vote.
"Governor Honahan has a very particular role to play for this state, one I would argue he has not played very well, and he should be concentrating on that. The referendum should not be biased by public figures representing their own view because they have the access to do so, when so many others have not."
In a speech to the Irish Economic Association, Professor Honohan said that signing up to the Fiscal treaty was the only thing the country could do and for the Government to do otherwise would result in the country turning its back on European co-operation.
Meanwhile a number of speeches promoting a Yes vote in the referendum have been removed from the Government's information website on the treaty.
The website – www.stabilitytreaty.ie – originally carried the texts of speeches by the Taoiseach, the Tánaiste, and Minister of State Lucinda Creighton advocating a Yes vote.
Tags: