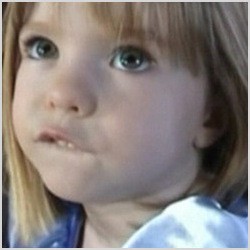 BRITISH and Portugese police are now openly at odds with each other over the search for Madeleine McCann.
Just hours after British police said they believed Madeleine could still be alive, the Portuguese authorities ruled out reopening their bungled original investigation.
One of the country's top police chiefs insisted there was no fresh evidence in the five-year-old case to warrant a new probe.
This was backed by Portugal's Attorney General who said new leads uncovered by Scotland Yard were nothing more than "mere speculation".
Pedro do Carmo, the deputy head of the criminal police department, said the investigation – which ended in July 2008 – would remain closed.
Scotland Yard detectives say they have uncovered 195 potential new leads while sifting through 40,000 pieces of information in the case.
They urged their Portuguese counterparts to re-open their search for the youngster, who vanished in May 2007, just three weeks after visiting relatives here in Co Donegal.
But Mr do Carmo yesterday ruled that out.
Det Chief Insp Andy Redwood however said there were 195 "investigative opportunities".
He went on: "Evidence that she is alive stems from the forensic view of the timeline.
"There were opportunities there for Madeleine McCann to have been taken as part of a criminal act.
"We are developing material we believe represents genuinely new information.
"We would like the case to be reopened. We are working with the police to get ourselves to that position."
A Met Police spokesman said last night: "Officers conducting the investigative review continue to work closely and collaoratively with the Portuguese authorities.
"There are significant differences in our legal systems. We recognise the law does not allow them to investigate as the case is currently closed.
"We do still believe, however, that there are matters which need to be considered, and therefore we are currently seeking a more formal way of addressing this."
He added: "We have received a steady flow of calls following yesterday's appeal and officers are now working through the information. We can't compel the Portuguese to do anything but we will keep trying and we don't think this is the end. We will keep lobbying."
Tags: