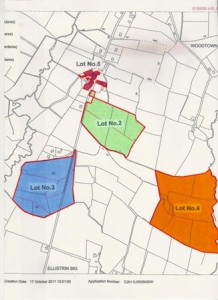 A WELL-known Co Donegal farm sold today for more than €800,000.
Bidding wars ensued as five different lots went under the hammer on farmland and buildings in the townlands of Woodtown and Coolboy near Ballyare.
The property, a mile from Illistrin was owned by the late David Patterson.
Estate agent Boyd Robinson told donegaldaily.com that the intense interest in the land showed the growing strength of the agricultural sector.
"It was very intense with more than five interested bidders on each of the five plots sold today," said Boyd
"In total the farm realised €831,000. It showed the level of interest in farmland at the moment in a sector which is growing.
"We are delighted for our clients and obviously delighted that everything sold at the auction."
The lands sold as follows:
Lot 1  15 acres of fair grazing with 3 bedroom chalet and Shed       €209,000
Lot 2 13 acre of fair grazing                                                              €189,000
Lot 3 17 acres of fair grazing                                                             €252,000
Lot 4 24 acre of fair grazing                                                              €140,000
Lot 5 2 bedroom cottage on 1 acre                                                        €45,000
Tags: