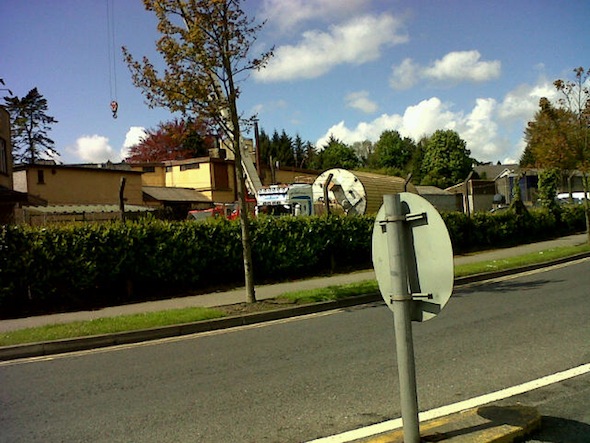 A LORRY was loaded up today at the Oatfield's sweet factory in Letterkenny with the final pieces of equipment for use at the Zed Candy operation in England.
A huge crane lifted tonnes of equipment onto the lorry earlier today.
It is being taken by ferry to England tonight and will be installed at the Kettering plant where Oatfield's famous brand sweets will now be produced.
Zed Candy are firing their last remaining workers – 15 of them – next week. They will get just two weeks wages for every year worked.
It brings to an end 85 years of sweet manufacturing in Letterkenny.
All the famous brands developed by the McKinney family over several generations will now be made in England.
Others will be made in China.
"It's a very sad sight," said one factory worker today, "it hasn't sunk in yet that it's closing but watching more equipment being taken today and it is becoming very real."
Earlier this week Zed Candy announced the creation of new jobs in Kettering.
The site of the Donegal factory, owned by Donegal Creameries, is being sold to turn it into a supermarket.
Once that happens, the only evidence of almost a century of history in the town will be the nearby Oatfield roundabout.
Tags: