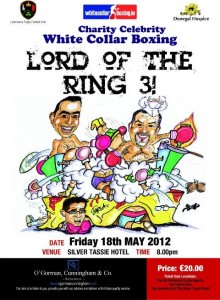 It's always a sell-out and this year looks no different.
With just a few days to go before Lord of the Ring 3, the gloves are off to promote the event which is being brought by Letterkenny Rugby Club in conjunction with the Donegal Hospice.
The committee has put together a fantastic line up this year again including Martin Anderson aka 'Fat Chef Slim', Stephen 'Head' McConnell from Donegal Aerosoft, Cathal McGlynn from Cash4u, Jeremy Worth, Orthodentist, Leonard Watson from Classic Casuals and Karl Sweeney from Swilly Drive School of Motoring who is following in his brothers footsteps Stephen and Brian who fought in the previous two events. The night this year also includes 4 ladies bouts.
The night itself is run by whitecollarboxing.ie from Dublin. Owner of the company Mr. Cathal O'Grady said he is delighted to be back in Letterkenny for the third year running.
"I travel throughout Ireland organizing white collar boxing events and the event in Letterkenny is certainly up there with the best of them in terms of atmosphere and professionalism. It is certainly a night I look forward too."
Mr Danny Ryan who coaches the boxers said he was delighted to be associated with the event this year again.
"The boxers have gone through and extensive 7 week training programme and judging from the standard of the sparring it is certainly going to be as good if not better than previous years."
Boyd Robinson chairperson of the organizing committee said they are delighted with the response from the public this year.
"The amount of boxers who came forward asking to participate was fantastic and testament of the high regard the event is held in the town.
"This year we hope to provide the public with yet another memorable night and it is definitely a night not to be missed. We welcome our new charity partners this year the Donegal Hospice and I have no doubt the event will be the same success as it was the previous 2 years.
"To date the event has raised €72,000 in total so hopefully after this year we will have surpassed the €100,000 mark. I am also delighted and would like to thank O'Gorman & Cunningham Solicitors who are our main sponsors for the event for the third year running."
The event will take place this year in the Silver Tassie on Friday 18th May and tickets are available for purchase at the Silver Tassie, Charlie Robinson estate agents or the Central Bar.
Tags: