Four Masters G.A.A. Club
The €50 winners in the Annual Lotto for Week 44 were E & M Timoney, Castle Street and Mary Mc Cauley, O' Cleirigh Avenue. The numbers drawn were 2, 8, 13 & 18 with the jackpot now standing at €1,800.
Test your forecasting skills now by entering the Sports Prediction Quiz launched by the Club recently sponsored by All Sports. Forecast the winners of 20 sporting events this summer to be in with a chance to win the 1st Prize of €200.00 Cash & All Sports Donegal Jersey or the 2nd Prize of a €100 All Sports Shopping Voucher. Entry sheets at only €5.00 can be downloaded from www.fourmastersgaa.com or purchased from Sean Dunnion/Kieran Espey, All Sports, Dom's Pier 1, Mc Cafferty's Tir Conaill Bar, The Bank and O' Donnell's Bar.
On Saturday last some of the Club's youngest members took their first foray into semi-competitive football when they participated in an Under 8 blitz in Ballyshannon. Fifteen young men set out for their first time wearing the Club colours and acquitted themselves superbly winning five out of the six games they played. Two teams from Four Masters (7 a-side) along with two each from Aodh Ruadh and Naomh Brid played out six excellent contests. The quality of their football was very high considering their tender years. Who knows we may have got a glimpse of the next Karl Lacey or Barry Dunnion. It wouldn't surprise anybody if we did! Many thanks to Aodh Ruadh and Naomh Brid and to all the parents and supporters who travelled up to cheer on the boys.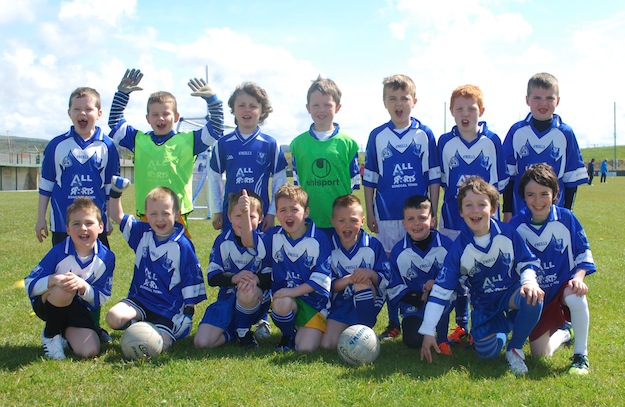 Four Masters Under 8 boys who took part in the Aodh Ruadh blitz last Saturday in Ballyshannon.
Tags: