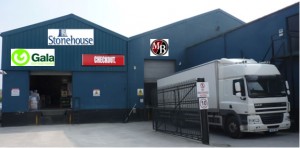 A LEADING Co Donegal company with annual revenues of around €30M has sold out to one of its rivals.
Wholesale grocery business Morris Brothers in Convoy – a family concern since 1952 – has been taken over by giant Dublin company BWG. It had revenues of €1 Billion last year.
Fintan and Joseph Morris and their 30 staff will remain with the business after the buy-out.
Morris Brothers services more than 450 retail businesses across Donegal, Sligo, Cavan, Mayo and Roscommon.
In a statement Leo Crawford, group chief executive of BWG, said: "It's a statement of intent that we are growing our business.
"We're reasonably pleased with how the business is trading but the grocery sector is not a market showing growth.
"The question is, have we reached the bottom or not? I wouldn't say with 100 per cent certainty that there will be a recovery next year."
Mr Crawford said BWG wholesale revenues in the Republic declined by 3 per cent last year to about €1 billion.
"We were happy with that, given the tough market and given the price deflation," he said.
In a statement, Fintan Morris, a director of Morris Brothers, said he was "delighted" to be part of BWG and that he looked forward to working with the company to "sustain continued growth in our business".
Tags: