The Letterkenny and District Schoolboys league held four cup finals over the past week with Ballyraine FC, Letterkenny Rovers and Glencar Schoolboys all coming out victorious.
Three finals were played at Leckview Park and one at the Community Centre.
DOUBLE DELIGHT FOR BALLYRAINE FC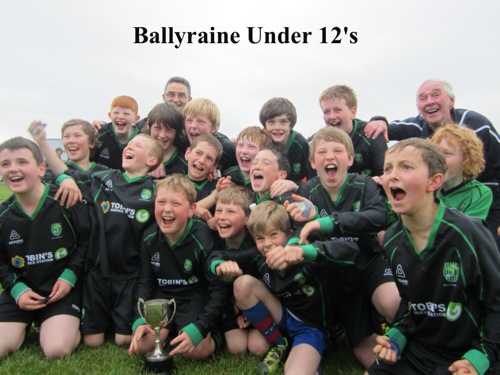 Ballyraine FC had a double celebration at the weekend when their Under 12s and 14s won their finals against Bonagee United and Glencar Hammers respectively. Their under 14s had a 4-0 victory over Glencar Hammers in the Shield Final at the Community Centre. Ballyraine goal scorers were Eoghan Harkin(2), Conor Gallen and Ben Fleming.
Their Under 12s defeated Bonagee on penalties after the game finished 1-1 aet in the Schoolboys Under 12 Cup Final on Sunday evening. Ballyraine took the lead through Mikey Sweeney but Bonagee equalised with a wonder goal from Aaron Wasson. Ballyraine won 4-3 in the shoot out. The victorious Ballyraine side was managed by Charlie Shields. Charlie has been involved in local football in the town for almost 30 years.
ROVERS COMPLETE TREBLE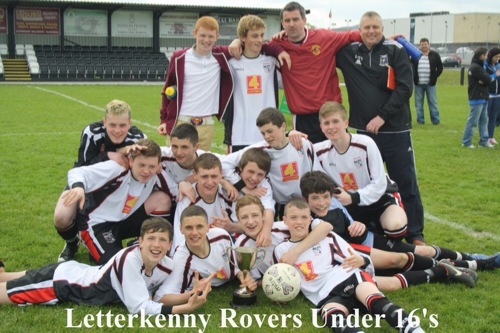 Letterkenny Rovers Under 16's completed a league and cup treble on Saturday afternoon after another penalty shoot out . Rovers who previously won the Schoolboys league along with the Donegal Schoolboys Champions League defeated Swilly Rovers in the Legues Cup Final. Letterkenny's keeper Chris O'Donnell scored and saved three spot kicks in a dramatic 9-8 penalty shoot-out after the game finished 1-1 aet. Kevin O'Donnell had put the Cathedral Town side ahead before Darragh Black equalised for the Ramelton men.
GLENCAR SQUEEZE PAST LAGAN
And also on Saturday, Glencar Schoolboys won the Under 14 Cup final after overcoming Lagan Harps by 3 goals to 2. Lagan were unlucky in this game as they found themselves 3-0 down at one stage in the contest. Glencar goalscorers were Billy Jnr Bandy, Gareth Doherty and Luke Nelis. Steven Gallagher along with an Og were the goals Lagan registered.
RESULTS
UNDER 12 CUP FINAL
Ballyraine 1–1 Bonagee United
Ballyraine won on penalties
UNDER 14 SHIELD FINAL
Glencar Hammers 0-4 Ballyraine
UNDER 14 CUP FINAL
Glencar 3-2 Lagan Harps
Under 16 CUP FINAL
Letterkenny Rovers 1-1 Swilly Rovers
Letterkenny won on penalties
Tags: