Sinn Fein's failed court case against the independent referendum watchdog yesterday will cost the taxpayer up to €200,000.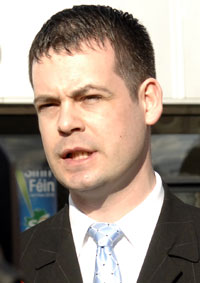 The party lost its 11th hour High Court challenge led by Pearse Doherty against a statement made by the Referendum Commission — giving the Yes side a final boost ahead of today's vote.
The Donegal TD's action, which was opposed by both the Referendum Commission and the State, centred on a statement made by commission chairperson High Court judge Kevin Feeney on whether Ireland has a veto over the European Stability Mechanism (ESM) from coming into being.
Dismissing Mr Doherty's case, Mr Justice Gerard Hogan said the statement by Mr Justice Feeney at a press conference on May 3 last was not misleading.
Tanaiste Eamon Gilmore said the case was a "last desperate attempt" by Sinn Fein to cast doubt on the independence of the Referendum Commission.
"I believe that this was a stunt by Sinn Fein in order to maximise their own publicity and in order to create confusion," he said.
Sinn Fein's legal representative indicated they will be applying to have their costs covered and the Referendum Commission legal team followed suit.
Legal experts last night estimated the cost of the judicial review case, which was heard until nearly midnight, will cost the taxpayer up to €200,000.
The judge will hear the application for costs on June 14. In his ruling, Mr Justice Hogan said in terms of any political debate the court must "remain strictly neutral".
Tags: