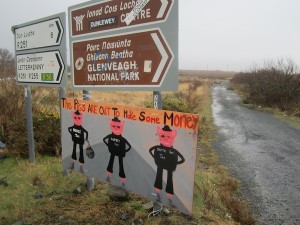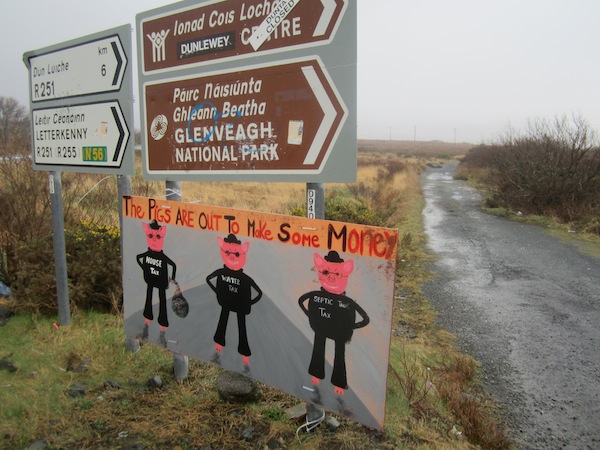 A DONEGAL campaigner against austerity measures has warned that the Government is about to launch a crackdown on unpaid Household Charges – and introduce new charges in coming weeks.
Owen Curran, from the Cloich Cheann Fhaola Can't Pay Won't Pay group said septic tank taxes and new household rates will be announced soon.
And he has called on the people of Donegal to stand firm in the face of warning letters which, he says, will be sent out over the summer from the Local Government Managers Association.
"With the Fiscal Treaty Referendum now behind the Government, ordinary people can expect them to get back to the business of imposing unjust taxes and cuts. Amongst other issues, this means a new launch date for registration of septic tanks, which, according to a government spokesperson is expected to be in mid-June," said Mr Curran.
He said the head of the L.G.M.A has also threatened that "enforcement" letters will be issued in mid-July against the majority of households boycotting the tax. More than 65% of people in Co Donegal have still not paid that charge.
Mr Curran went on: "The government also intend to publish a report on the property tax. The report has no date for it's publication, except that it would be "possibly before the recess."
"It is also obvious that the government has no serious plans to tackle un-employment, the biggest social, political and economic crisis we are currently facing.
"We call on all citizens concerned about the effects that these unjust taxes will have on themselves and on our local economies, and the lack of effort by the government to tackle the unemployment crisis, to get involved in the campaign against the household, water and septic tank taxes in any way they can. Only by boycotting these taxes and fighting for policies that will enable our economy to grow can we hope to emerge from this economic depression in the years ahead."
The campaigner added: "The future of our society is too important to leave in the hands of failed politicans and bankers, professional wafflers and wannabe politicans who see this crisis as their opportunity. Only by citizens becoming fully involved in political and social affairs can we ever hope to have a hand in shaping our destiny. It is up to us."
Tags: