The Can't Pay, Won't Pay campaign has accused Donegal County Council of misleading the public on the numbers who have paid the Household Tax and has challenged the Council to issue a breakdown of their figures.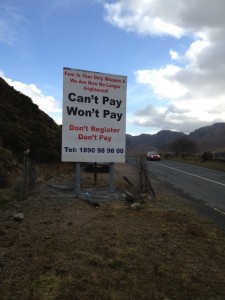 Francis McCafferty of the campaign steering committee said the boycott of the Household Tax remains solid almost halfway through the year with nearly two thirds of households in Donegal still having paid the charge.
"Not for the first time Donegal County Council has sought to mislead people by claiming earlier this week that 45% had paid the charge. This is nonsense and we challenge them to give a breakdown of their figures and explain how they arrived at this figure.
"We note that while they gave their figures to a number local news outlets, they have not published an official statement on their website which can be subjected to public scrutiny."
He added the 2011 Census figures are very clear. There are 84,356 housing units in Donegal. From this we can subtract the 3,572 local authority properties and a generous estimated 700 exempted properties in other categories.
"This leaves around 80,000 properties subject to the charge.
"Gary Martin, Director of Finance with Donegal County Council, confirmed our figures when he told the Shaun Doherty show on Highland Radio on March 29th that the Council hoped to get around € 8 million Household Tax from 80,000 households in the county."
"Even by the Council's own figures that 29,000 have paid the charge, this still leaves a massive 51,000 households, or 64%, who are boycotting the Household Tax. With such huge and determined opposition, there is no realistic possibility for the local authority to make us all pay. They should stop trying to do Hogan's dirty work and stop trying to mislead us."
Tags: