Labour Senator Jimmy Harte has launched a stinging attack on Sinn Fein Deputy Pearse Doherty and his party after they raised concerns about the future of Glenties Garda station.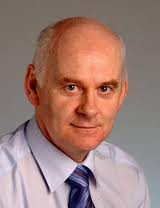 Donegal south-west TD Doherty said last night he was concerned about reports that the station was to be downgraded and could lose its status as District Headquarters.
He said he has spoken with locals in Glenties who had held a meeting to discuss the concerns.
However Senator Harte said he found the move bizarre and said the people of Glenties must be bemused by Sinn Fein's concern for their Garda station.
He said it was bizarre coming from a party that spent their time with their friends in the IRA monitoring stations as reported in the Smithwick Tribinal.
"I'm sure the decent people of Glenties are bemused to hear a Sinn Fein politician showing concern about the future of a Gardai station when they spent many years refusing to recognise the authority of the state and as reported in the Smithwick Tribunal the IRA monitored the Gardai Stations along the border to see who came and went from the stations.
"I think Deputy Doherty should ask himself why his organisation refused to recognise the Garda who defended the State against the action of his comrades," said Senaor Harte.
He added that Sinn Fein have no interest in the future of Glenties Garda station and "as usual are trying to court public approval."
Tags: