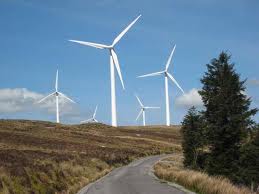 PROTESTORS from Co Donegal have joined a national organisation at the weekend, aimed at regulating the growing number of wind farms.
The first National Meeting of community groups concerned about the expansion of wind farms across the country took place in Strokestown, Co. Roscommon on Saturday.
The new National Group unanimously agreed to support the Wind Turbines Bill introduced to the Seanad by Senator John Kelly. The Bill proposes mandatory set back distances between wind turbines and residential premises in order to address health concerns.
Community groups from thirteen Counties – including Glenties – were represented at the meeting.
A decision was made to form a National Group with the objective of supporting people and communities who are affected by wind farms.
Spokesperson for the group, Yvonne Cronin, said that further objectives were agreed which were aimed at informing the public on the impacts of wind farms and lobbying politicians "to protect the human rights of those living near wind turbines."
Delegates spoke about the "powerlessness" which many communities felt when engaging with the planning system.
Several others voiced fears that their families would suffer because of exposure to the relentless noise of turbines "inappropriately sited near their homes."
Speakers Val Martin and Peter Crossan highlighted the economic and environmental cost of the Irish government's drive for wind energy.
Professor Emeritus Alun Evans, from Queens University Belfast, spoke about his editorial published in the British Medical Journal on the public health concerns related to living near turbines, whilst Senator John Kelly spoke about the Wind Turbines Bill 2012.
The meeting concluded following the election of a steering group, representing all of the counties present, which will provide leadership for the national organisation.
Tags: