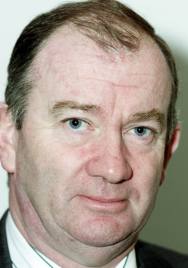 A CIRCUIT Court judge has remanded three young men in custody after hearing how they were behind a series of violent incidents in Letterkenny.
Judge John O'Hagan (pictured) slammed the actions of the men who tried to petrol-bomb a house before attacking tourists on a bus with wheel braces and bars.
Three of the young men appeared before him at Letterkenny Circuit Court yesterday.
The court heard how the young men Alan Parke, now 19, Caolan Mulhern, now 20, Eoin Orr and another man wore balaclavas as they attacked a house at Croagh Patrick in Letterkenny on September 6th, 2009.
The attack saw the men firstly smash windows in the house which contained two people – one of whom was fast asleep.
The men then filled wine bottles with petrol and soaked rags before throwing them through the window.
Luckily the petrol bombs did not ignite, a detective Garda told the hearing.
The men then drove into Letterkenny and became involved in an incident at a bus station on the town's Port Road.
The private bus had earlier left 27 men from Fermanagh on a stag party night out and was waiting for them to return when the men pulled up in their car.
The young men attacked the bus with wheel braces, a car jack and iron bars after a verbal confrontation. Six of the tourists were on board the bus, three of them later taken to Letterkenny General Hospital to be treated for injuries.
Gardai were called and found the men in a silver Toyota Avensis at a nearby garage forecourt a short time later.
CCTV footage from Letterkenny Town Council later showed the full incident.
When searched by Gardai, the car contained a 5 gallon petrol container with petrol, dampened rags, as well as car jacks and wheel braces.
When interviewed all men admitted to being involved in the attacks.
Garda Stephen McGonigle told the court that he believed the petrol bomb attack on the house was as a result of an argument over drug money.
The attack on the stag bus arose after a comment was allegedly made between the two parties.
Judge John O'Hagan said the young men were a nuisance and asked if this was what the people of Letterkenny wanted going on in their town.
"The people of Letterkenny don't want this. I don't want this," he said.
He said he had to consider what sentences were appropriate for the behaviour.
"What am I to do – give them sweets?" he asked.
He added that they were lucky they did not cause themselves harm driving around with a five gallon drum of petrol.
Judge O'Hagan said he felt sorry for the mothers and partners of the men, but he had to consider what they had done very seriously.
The offences were well planned and pre-meditated. The gang members had worn balaclavas.
"Where did they learn to make petrol bombs?" he asked.
He also said several of the accused men had pointedly failed to cooperate with Gardai, only belatedly admitting their involvement after several interviews.
The judge was sitting past 6.30pm last night because of the huge backlog of cases. He said he needed time to cool down and think about a sentence before giving his verdict.
As he remanded all three men in custody to Castlerea Prison, he told them: "If I had sentenced you this evening, you would have been getting 18 months in prison."
He also said he had to think about the fact that the accused were three years younger at the time of the attacks.
However, he remanded the three men in custody to Castlerea Prison to appear on July 27th.
A bench warrant was issued for the fourth young man who did not appear.
Tags: