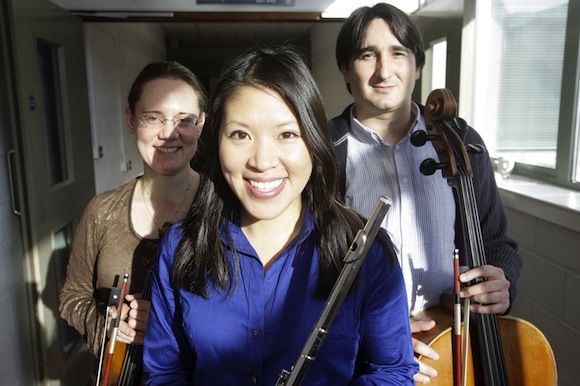 Donegal Chamber Music Society in association with Earagail Arts
Festival presents
"SUMMER CLASSICS" with the DONEGAL CAMERATA & SARAH MURPHY
Saturday,14th July, 8pm. Drawing Room, Glenveagh Castle, Glenveagh.
Sunday, 15th July, 3pm. "Sundays in Conwal", Conwal Parish Church, Letterkenny.
These recitals by six international professional players bring
classical music to historical venues in the county, and also feature
new music from Ireland.  The programme of "Summer Classics" will
include Barber´s Adagio for Strings, Vivaldi´s Sinfonia in C Major and
Flute Concerto "Il Gardelino" and Mozart´s flute quartet in D. For
their regular concerts Donegal Camerata has been selecting works from
the library of the Contemporary Music Centre. This recital will
include a work by Denise Kelly, Four Sketches of Dublin for violin and
cello, performed by the Szabó-Yélamo String Duo.
Tickets can be booked in advance or purchased at the door. For booking
contact: An Grianán Theatre Box Office: 074 9120777
Tags: