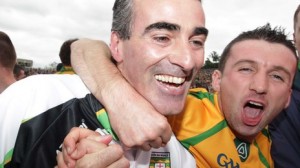 WHAT a difference a year makes.
So-called TV pundit Pat Spillane may be still begrudging when it comes to Donegal football this year.
In fact his comments on the Sunday Game were probably worse than that.
But for people who know what they're talking about, the sports writers, they have been generous in their praise following Donegal's back-to-back Ulster title victories.
The headline in the Irish Times was wonderful and refreshing. It read 'Donegal turn winning into a fine art as they produce a masterpiece.'
Reporter Ian O'Riordan went on: "Ulster football finals are not meant to end like this, a curtain drawn slowly across to reveal a masterpiece. This is Clones, a gallery better known for its graffiti than its art, football played out in rages, not a rhapsody.
"An 11-point win, with 11 different scorers, all but three of those points from play, and all meticulously put together. No wonder in the final minutes even James McCartan, Down's All-Ireland winner, simply pulled out his earpiece, shook hands with the creators, and stood back in admiration – and no doubt a little envy.
"And that, perhaps, was the ultimate approval for a team that only last year was on trial for so-called crimes against football.
"Whatever about the final score line – and the manner of victory – this was the near complete, defiant Donegal performance. So often Ulster football finals are smothering, claustrophobic: this one simply took the breath away, from a team with a reputation for the very opposite."
And Cliona Foley in the Irish Independent gushed: "A team criticised for being ultra-defensive, they had 11 scorers, and 2-15 came from play. They also, thanks to a great Paul Durcan late save, maintained their record of conceding just two championship goals (both from penalties) in the last two summers.
"Playing the Tir Chonaill men has become a bit like wrestling an octopus.
"You can wrap up a lot of the tentacles for long periods but eventually some escape and the attacks come from more angles than you can stop."
For manager Jim McGuinness, he has stoutly defended his men against the critics, who are harder to find this summer than hen's teeth.
"Look, they've done something we'd our hearts set on doing, winning back-to-back Ulster titles, and that's very satisfying," said the Donegal manager.
"Without being negative, this is the same group of players that were heavily criticised for a number of years. They've come round, won two Ulster titles back to back, a lot of players that were at the centre of that storm of criticism, for their hunger for Donegal, and their application for Donegal. They're the boys leading the line now, and I'm very happy, and proud for them.
"Your life can take twists and turns, and they could have ended up stepping off the panel, or moving away, and this would never have happened for them. People would have always said things about them. Whereas I feel now they've at least in some way rectified that, and put their own stamp on their Donegal careers."
He always believed he could do something different with Donegal football.
"Well I went for the job three times, and I didn't get it the first two times. I've always believed there's talent in Donegal, in my heart. I used to look at other teams and think we're as good as them, technically, player for player, but we're not able to do it. And we needed to sort that out," he said.
And make no mistake – he's in this to win it. All the way to Sam.
"Well of course, you have to believe you can win the All-Ireland," he said.
"If you didn't believe that there's no point in going on in the competition. Just give your place to somebody else. We can only prepare 100 per cent for the quarter-final, and if we're competitive in that game of course we'll be competitive. And that's the way we'll approach it. If you don't win the quarter-final you can't win the All-Ireland."
Believe!
Tags: