A bird-lover is traveling to Co Donegal after his rare missing bird of prey was spotted on Tory Island.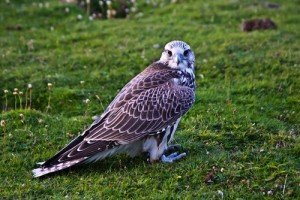 Karl Lawlor has spent the past two weeks and a considerable amount of money looking for his rare falcon which escaped for his home in Slane, Co Meath.
He even hired a plane in a desperate bid to locate the valuable bird (pictured right) but couldn't spot it around Meath.
Karl, 50, then got a lucky break when a holiday-maker spotted the rare bird which has a silver ring and a bell strapped to its claws.
Owen Clarke, from Letterkenny, contacted Donegal Daily after he came across the bird while out walking on Tory Island.
We then contacted Birdwatch Ireland in a bid to discover the species and origin of the bird.
The organisation identified the bird as a rare hybrid falcon – a cross between a Gyrfalcon and a Saker Falcon.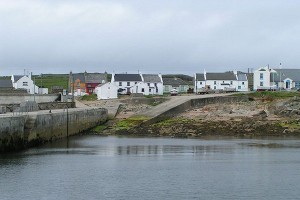 Niall Hatch of Birdwatch Ireland then recalled how such a bird had gone missing and contacted Karl who couldn't believe his luck.
Karl is today was making the 160 mile journey form his home to the remote island, nine miles off the mainland, to catch a ferry in a bid to recapture his beloved bird.
"I can't believe I might be able to get her back now. I have searched high and low since she disappeared. Nobody knows how much this means to me," he said.
Many of the island's 150 inhabitants, including the King of Tory, Patsy Dan Rodgers, have also been put on alert for the bird which has been spotted several times in recent days.
The island is rich in rabbits which the falcon is surviving on.
Owen Clarke, who spotted the bird, revealed how he almost caught her.
Owner Karl told Owen how to call the bird using a whistle and some baited meat.
"I was only a matter of inches from it before it flew away. I honestly thought I had caught it for Karl.
"He's coming up himself now so hopefully he'll have a little more luck than the rest of us," said Owen.
Ends
Tags: