Donegal County Council is to host a major international conference on Renewable Energies and Opportunities in the Green Economy.
The conference, which takes place on 12 September 2012 in the Solis Lough Eske Castle Hotel, Donegal Town, will address opportunities for Ireland in emerging offshore energy markets, policies, electric transportation, biomass and smart technologies.
This conference is a key deliverable of the EU INTERREG IVC Funded CO2Free Capitalisation Project: Cooperating 2 Foster Renewable Energy and Efficiencies.The Director of the INTERREG IVC Programme, Michel Lamblin will address the conference.
Donegal County Council is working with seven other European regions (Derry City Council, Vasternorrland Sweden, North Karelia Finland, Bourgas Bulgaria, West Romania, Karinthia Austria, Avila Spain, San Sebastian Spain), and project managed by ERNACT, to promote and take action towards a world with less CO2.
Brian Boyle, Head of Information Systems with the Council said that "a key element of this project is about working with these other regions to learn about their best practice approaches in terms of renewable energy and reducing CO2 consumption and to explore how this learning can be adopted and applied locally".
Speaking about the conference, Michael O'hEanaigh, Director of Community, Culture and Planning with the Council said the conference will place a particular emphasis on the whole area of ocean energy including wave, offshore wind, and tidal and the possibilities relating to this sector for Donegal and for Ireland.
"The conference will address emerging policy for this sector and will review existing development in Ireland and internationally. It will also look at the resource provided by Killybegs with regards to servicing a future offshore energy industry off the west coast of Ireland".
A number of renowned experts in the area of renewable energy will be addressing this conference including Neil Doherty from Sgurr Energy, Sustainable Engineering Worldwide, Paul Williamson from Maine Wind Industry Initiative and Jouko Parviainen from Josek Ltd in Finland who will talk about Biomass Developments & Technology.
According to Donegal County Council the conference is a must for anyone interested in emerging offshore energy market and green economy opportunities.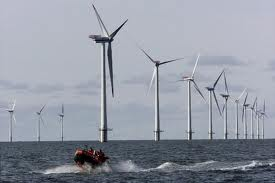 Attendance at the conference is free but booking is essential and places are limited on a first come first served basis. To book your place contact ccraig@donegalcoco.ie and for further information visit www.co2free-project.eu or www.donegalcoco.ie .
Tags: